Los Angeles dumps 20K 'shade balls' into reservoir to stop evaporation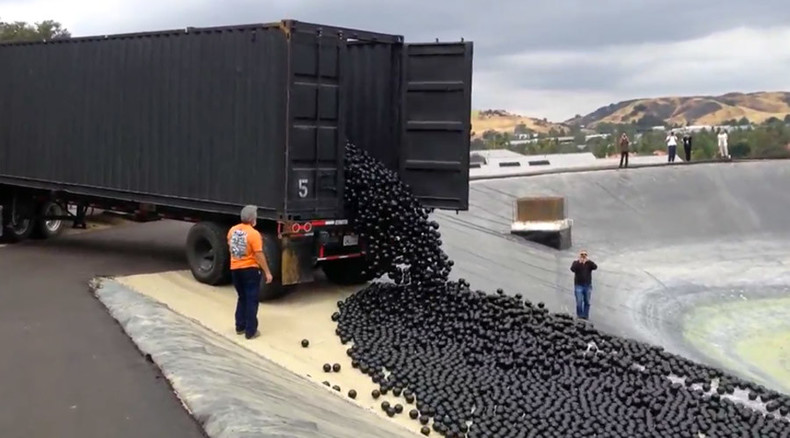 Desperate to preserve its water supply amid a four-year drought, Los Angeles is turning a reservoir into a ball pit. It may not seem like the most scientific approach, but officials say the "shade balls" will protect valuable H2O in the City of Angels.
Bringing new meaning to the term "throwing shade," authorities claim the black, plastic balls will preserve the Van Normal reservoir's water supply in several ways.
For starters, the shade provided by the balls is expected to prevent 300 million gallons of water from evaporating annually.
"By reducing evaporation, these shade balls will conserve 300 million gallons of water each year, instead of just evaporating into the sky. That's 300 million gallons to fight this drought," Mayor Eric Garcetti said, as quoted by KABC News.
That's enough to provide drinking water for 8,100 people for a full year, Councilman Mitch Englander said, according to a Los Angeles Department of Water and Power (LADWP) press release.
The balls will also prevent a chemical reaction caused by the sun which is known to create a carcinogenic compound called bromate.
Lastly, the protective barrier formed across the surface of the water by the small spheres will help stave off contaminants from birds and other animals.
While these may seem like lofty claims for plastic balls that look like they belong in a preschool, the shade balls are at least slightly more advanced than they appear.
Unlike their colorful childhood counterparts, the balls contain water that weights them down and helps keep them in place.
But it takes a lot of balls to shield a 175-acre reservoir from the sun – about 20,000 had to be deployed to achieve effective coverage.
Although the city's mayor took part in the balls' release, it wasn't exactly a spectacular event. In fact, it simply required dumping the spheres out of big sacks and letting them roll down a ramp into the water.
But the shade balls – which now total 96 million and cover three other reservoirs – have cost the city a spectacular amount of money, coming in at just under $35 million.
Los Angeles is the first city in the US to use shade balls, which city officials say should last about 10 years. After that date, they will be removed, recycled, and replaced, the LADWP said.