NYPD union introduces vagrant-shaming photos to address quality-of-life issues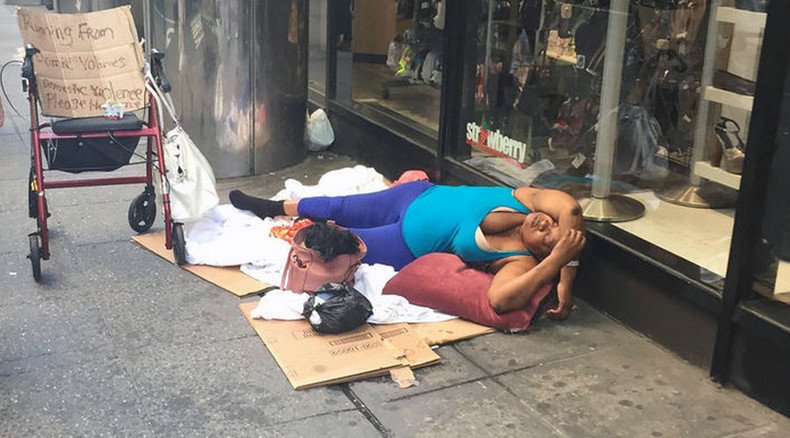 The New York Police Department union has launched an effort to shame the city's homeless population. The Sergeants Benevolent Association (SBA) is posting photos online of vagrants urinating in public and otherwise breaking quality-of-life laws.
In an email to union members, SBA President Ed Mullins urged off-duty officers to snap pictures of quality-of-life scofflaws to document what he calls "a city in decline."
"As you travel about the city of New York, please utilize your smartphones to photograph the homeless lying in our streets, aggressive panhandlers, people urinating in public or engaging in open-air drug activity, and quality-of-life offenses of every type," Mullins wrote in a letter quoted by several local news organizations.
The union will then "will notify our public officials in writing of what is being observed," he said. "We will refer issues to the proper agencies, and we will help create accountability across the board."
Glad to know that the @SBANYPD is encouraging officers to waste taxpayer money by spending time shaming the homeless and mentally ill! #NYPD

— doubled2520 (@doubled2520) August 10, 2015
Law enforcement officers are not allowed to take photos of the public while on duty, Mullins reminded the SBA members, but he added that "photos may be taken while traveling to and from work or any time off duty."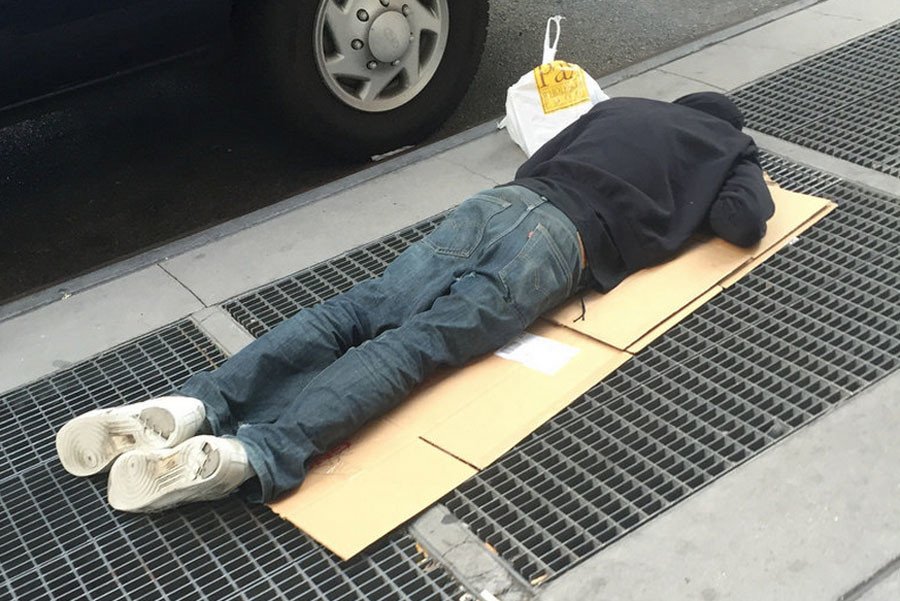 A vocal critic of Mayor Bill de Blasio, Mullins blames New York's executive and the City Council for allowing New York City to "become a permissive place."
"We are an open invitation to come here because it's okay to smoke marijuana; it's okay to urinate in public; it's okay to remain homeless in the street," he told WCBS.
READ MORE: 'Breakdown of society?' NYPD kills marijuana sting policy
"I see New York City deteriorating," Mullins told WPIX. "I see quality-of-life crimes all over the city, homeless all in our streets. A national problem between people of color and the police and all I see are phony politicians introducing phony legislation that accomplishes nothing."
Better idea for whiny NYPD posting pictures online of homeless people being homeless: talk to them like people and ask them how they are.

— Abaddon Expounder (@Louderstill) August 11, 2015
The City Council has said that it wants to decriminalize several quality-of-life offenses.
Bob Ganley, the vice president of the SBA, told WINS that the City Council would be making a mistake with that legislation.
"You can't have aggressive panhandling going on in the City of New York," he said. "The amount of homeless people that are begging on the streets of the city, people urinating and defecating in places that they shouldn't be. It's not fair to the people that we represent, people that we serve."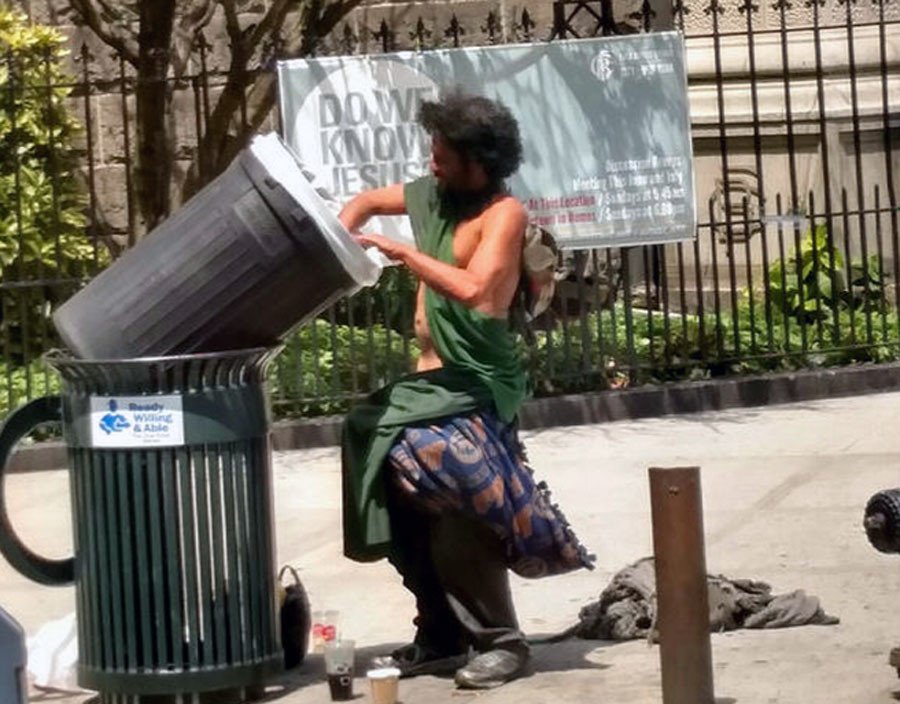 In his letter, Mullins went even further with his criticism, slamming "inept and spineless public officials who sit amongst the City Council and propose legislation that can only be described as preposterously disingenuous."
Among the policing bills the City Council has introduced is the Right to Know Act, which would require NYPD officers to offer their full name, rank, precinct and Civilian Complaint Review Board (CCRB) number, as well as to obtain verbal or written consent before searching someone they stop if there is no warrant or probable cause for a search.
READ MORE: New York's stop-and-frisk policy ineffective in recovering guns, stopping murders - report
De Blasio, who ran on a platform of reforming policing in the city, responded to the SBA letter by pointing to the NYPD's so-called "broken windows" policy, which is meant to crack down on small crimes in order to prevent more serious offenses.
"From adding $1 billion for homeless services to investing heavily in broken windows policing, Mayor de Blasio is clearly committed to keeping all of our streets and neighborhoods safe," a statement released by his office read. "The NYPD will continue to enforce the law against quality-of-life offenses and ensure we keep New York City the safest big city in America."
Similar policies in Baltimore, Maryland, instituted by the administration of Mayor Martin O'Malley last decade, were criticized earlier this year for creating a massive rift between the city's police department and Baltimore residents. O'Malley is currently vying for the Democratic presidential nomination.
The SBA union represents about 12,000 active and retired NYPD sergeants. By Tuesday afternoon, the its Flickr album, called Peek-A-Boo, had nearly 200 photos and over 2,100 views.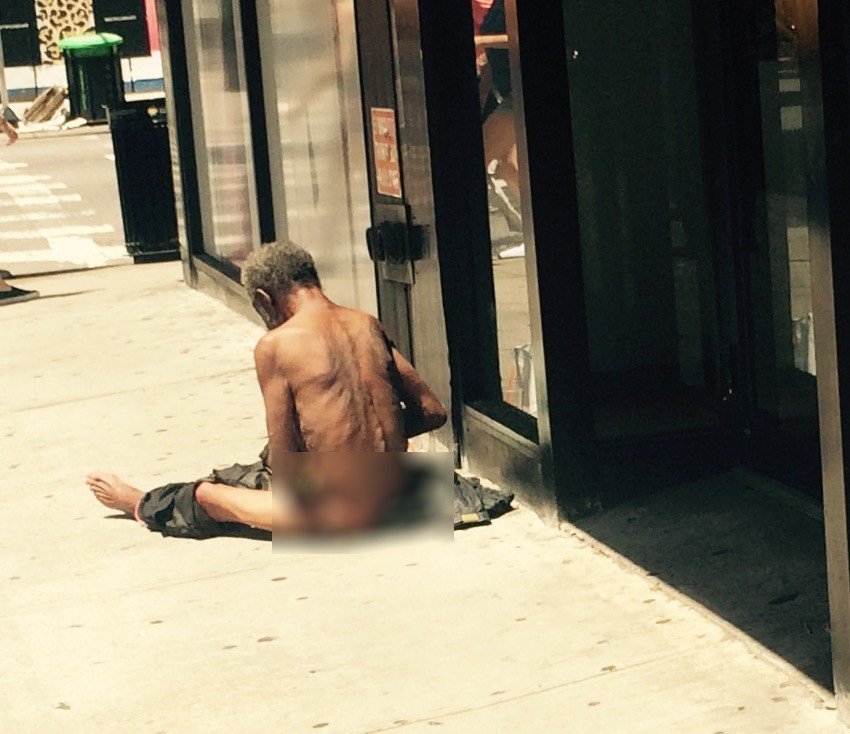 The head of the oldest and largest provider of healthcare exclusively to the homeless told WPIX that, whatever its motivations, the SBA's photo proposal may raise awareness of the homeless and help find solutions to their problems.
"I don't take a position on the letter or motivation. I really focus on results," Bobby Watts, executive director of Care for the Homeless, said. "To the extent that more people are aware of homelessness and are determined to find solutions, that can be helpful."
You can share this story on social media: