Debt, drought leave Puerto Ricans high and dry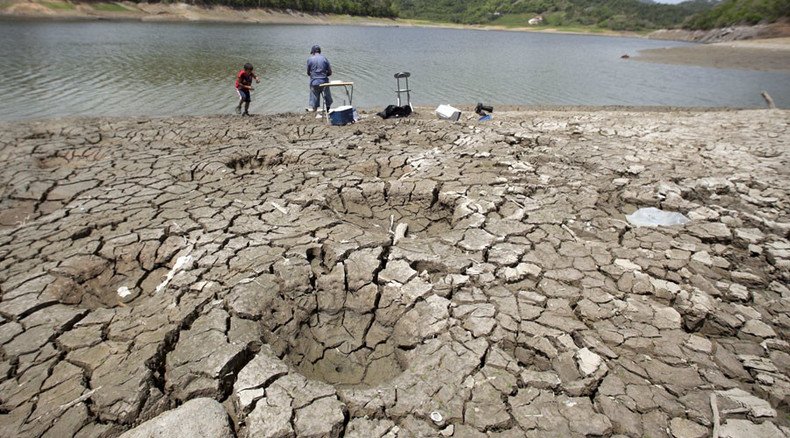 Puerto Rican residents are now receiving tap water just twice a week, because of severe rationing imposed due to a months-long drought and crumbling infrastructure. Tourist areas and resorts remain unaffected, drawing criticism of double standards.
Rationing measures in place since May are already affecting some 1.3 million of the island's 3.5 million residents. With less than 2 inches of rain recorded in July, normally one of the wettest months, households in San Juan and along the island's north coast will have water on tap just twice a week, Telesur reported.
With water flowing only Tuesdays and Saturdays or Wednesdays and Sundays, the island's poor residents fill up their buckets and bath tubs whenever they can. Meanwhile, the swimming pools, showers and fountains at the hotels and resorts frequented by tourists have been exempt from rationing.
"I see it as such as parallel of government policy in general," San Juan academic and activist Jose Rivera told ThinkProgress. "The government puts more value into those from abroad than they are concerned about the local situation and the well-being of the public."
The two-year drought already affecting the US island territory was made worse by a weather phenomenon known as El Niño, which began in March. Some 2.8 million residents of the US territory live in areas classified as suffering from "extreme" or "severe" drought, according to the National Drought Mitigation Center.
Farmers across the island are struggling with dying crops and livestock. More than a quarter of Puerto Rico has been declared a drought disaster area by the US Department of Agriculture.
"It's been water for one day, then no water for two days," Roberto Fernandez, a farmer in Guayanilla, told ThinkProgress. "In the one day you have water, you fill your buckets."
During a similar water crisis in 1994, open containers of water provided a breeding ground for mosquitoes and led to the outbreak of dengue fever, University of Puerto Rico professor Maritza Stanchich told KCRA.
Water shortages have been made worse by a crumbling infrastructure, hampered by lack of maintenance because the island has been struggling to pay its debts. The Puerto Rico Aqueduct and Sewer Authority (PRASA), which provides water to about 97 percent of the island's residents, said Tuesday that it would try and raise $750 million through selling bonds. PRASA has to upgrade its water supply system as part of a consent decree with the US Environmental Protection Agency, but it already has an outstanding debt of approximately $5 billion in various bonds and notes, according to the Wall Street Journal.
READ MORE: Vulture funds demand brutal austerity measures from bankrupt Puerto Rico

Last week, the Commonwealth of Puerto Rico was unable to make a $58 million payment on its debts, which are estimated at over $72 billion. According to the Government Development Bank for Puerto Rico (GDB), the commonwealth simply did not have the cash to make the bond payment owed to the Public Finance Corporation (PFC). The US island territory is now considered in default.
The island also suffers from a brain drain, with the seventh-fastest speed of population decline of any territory in the world last year, and one of the highest violent crime rates in the region. After four centuries of Spanish colonial rule, Puerto Rico became a US possession after the 1898 war with Spain.
You can share this story on social media: