Intense hail strikes Delta jet cockpit, forces pilot to make 'blind' emergency landing (PHOTOS)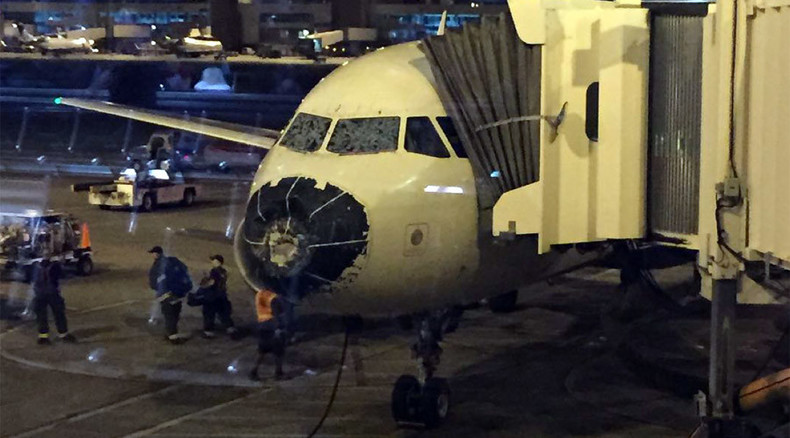 A Delta Air Lines jet was caught up in severe hail during a flight from Boston to Salt Lake City, and was forced to make an emergency landing in Denver. Only afterwards did passengers learn of their close shave: the plane's nose and windshield had suffered severe damage.
The Airbus A320 which was redirected to Denver managed to land safely on Friday night, but the passengers were terrified to see the scale of damage which the storm inflicted upon the aircraft.
The pictures shared on social networks showed that its nose cone had been torn apart, while the windshield in the pilots' cabin had been cracked by the hail. Some of the passengers even claimed they could see damage from a lightning strike on one of the plane's engines.
It was unclear from the photos if any of the plane's navigational equipment and radars located in the nose were damaged. Even so, the pilots had apparently been forced to perform a landing without clear runway visibility or contact with other air traffic.
The passengers, glad to be back on earth safe and alive, applauded the crew and insisted that the airline give the pilot a bonus. Delta meanwhile reiterated in a statement that the safety of their customers and crew always remains a "top priority." However, they did not mention whether the pilot was going to get the suggested well-deserved bonus.