'Busted' Snowden bust back in New York, this time as street art exhibit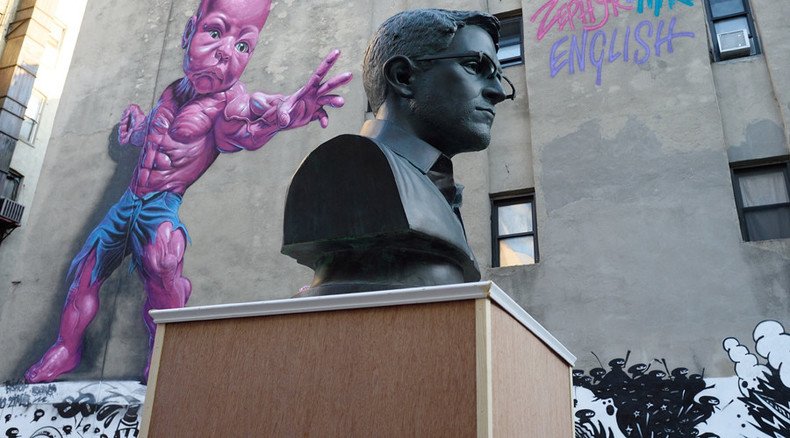 A 45-kilo (100-pound) bust of former National Security Agency contractor, Edward Snowden, once confiscated by NYPD, has surfaced in Manhattan's Little Italy neighborhood – to create a buzz at a street art festival.
The likeness of America's most-wanted whistleblower returned to public display on Friday as a part of the city's first-ever downtown mural show, the Lo Man Art Festival, curated by the Little Italy Street Art Project. The piece of contemporary art, under 24-hour guard to prevent any incidents, is hoped to attract more than 60,000 people to the area, which boasts 21 other art exhibits.
Edward Snowden's bust is standing on a pediment in a vacant parking lot, surrounded by graffiti and murals, one of which depicts a gigantic Pink Baby battling an even bigger Hulk Tot, making up Ron English's work "Temper Tot Lot".
Wayne Rada, the L.I.S.A Project's founder, says: "All they (the artists) want to do is show off the Snowden bust and create a discussion – whether you agree or disagree, that really doesn't matter."
Four months ago, the bust, installed without permission on an American revolutionary war monument, was removed by the New York Police Department. It was freed to go from a storage facility in the Bronx and ended up at an art gallery in Brooklyn.
READ MORE: Snowden freed: NYPD releases illegally installed bust for art show
The "gift to the city" from artists Jeff Greenspan and Andrew Tider was intended to provoke thought and "to highlight those who sacrifice their safety in the fight against modern-day tyrannies," according to Yahoo News.
In June 2013, Snowden leaked classified information on surveillance programs launched by the US intelligence service. Since then he has been in exile living in Russia.
The Lo Man Art Festival, open to visitors till Sunday, brings a number of big names to the City including Os Gemeos, Beau Stanton, Tatyana Fazlalizadeh, TATS CRU, LUDO, Solus etc.
Blank walls and gates will get a fresh lick of spray paint, restoring New York's status of the world's capital of sub-culture as it used to be in the 70s and 80s. Lower Manhattan will thus turn into "an international art district."
Rada explains that "New York City is the nexus of the universe for art and culture, so we should do something that reflects that."
After being ousted from this part of the Big Apple by high rent, it's the artists' attempt to bring street art back to Manhattan, today best known as home to money-making corporations.
You can share this story on social media: