Dissatisfaction with treatment of black population soars in just 2 years - Gallup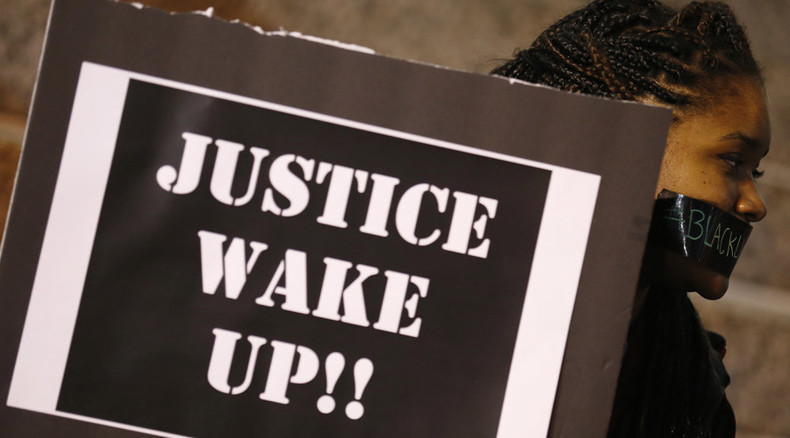 More Americans are dissatisfied with the way the black US population is treated, according to the latest poll by Gallup. The satisfaction rate has fallen to 49 percent, compared with 62 just two years ago.
The Minority Rights and Retaliation survey united over 2,200 respondents from several ethnic backgrounds, and was conducted by phone from June 15 till July 10.
The decline in satisfaction with the way the black population is treated has been registered among blacks (33 percent compared with 47 percent in 2013), whites (53 percent today, 67 in 2013), and Hispanics (44 percent in 2015, 61 in 2013).
Only the white American population has shown a slim majority of satisfaction, despite the sharp drop.
"Americans are also now more likely to perceive that blacks are treated unfairly in various situations, including dealing with the police, but also at work, when shopping and when visiting restaurants and other establishments," the survey organization said.
Gallup last posed questions concerning unfair treatment of the black population in 2007.
Just as eight years ago, Americans believe blacks are the butt of most of the mistreatment from police, but that perception has only intensified. Forty-three percent of participants said blacks were treated less fairly by police in 2015 in comparison with 37 percent in 2007.
Other situations where people think mistreatment of the black population has grown are neighborhood shops (25 percent today, compared with 15 percent in 2007), as well as downtown stores and shopping malls (29 percent in 2015, 19 percent eight years ago).
The poll comes after high tensions following the grand jury decisions not to indict white officers who killed unarmed blacks in Ferguson, Missouri, and in New York City.
"The effects of those incidents have led to an increase in the US public's perceptions of race relations as the most important problem in the country, a decline in confidence in the police and a significant decrease in Americans' satisfaction with the way blacks are treated in the US," Gallup said in a statement on the organization's website.
Politically, Democrats are more dissatisfied than Republicans with the treatment of blacks, despite all groups' satisfaction levels lowering quite dramatically.
In particular, democratic satisfaction with the treatment of blacks has dropped from 51 percent in 2013 to 31 today, while Republican levels are down 10 points (from 76 to 66 percent).
Finally, the poll asked respondents about the treatment of other ethnic groups - Hispanics, Asians, Arabs - and no meaningful change was registered.