Massive wireless outage strikes major phone carriers, 4 Southern states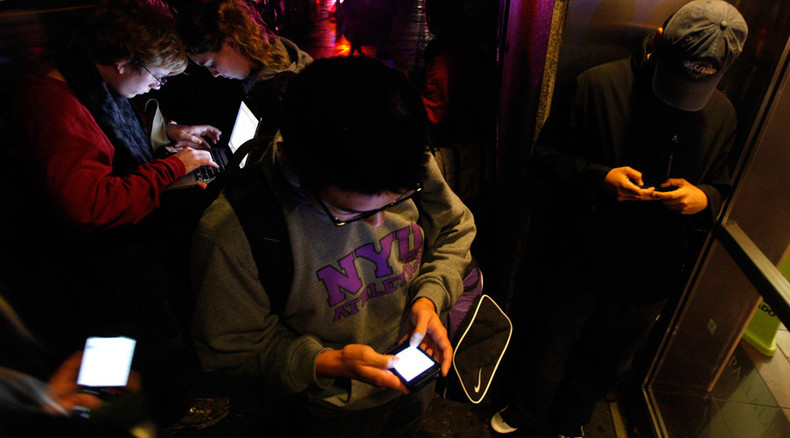 An extremely large wireless outage has affected four Southern US states, including large swathes of Tennessee and Kentucky. Parts of Alabama and Georgia were also hit by the loss of service.
Customers of several major wireless phone carriers, including major companies like AT&T, Sprint, T-Mobile and Verizon, started suffering from the lack of service around 3:00pm local time on Tuesday, according to Time magazine. Nashville, Tennessee, Louisville, Kentucky, and Huntsville, Alabama were just some of the cities in which service was lost.
In some cases, phones appeared as if they had a wireless signal but were still unable to make calls or use their data, the Times Free Press reported.
AT&T spokesperson Cathy Lewandowski told the Tennessean that people "across parts of the Southeast" are experiencing issues.
"Some customers across parts of the Southeast are experiencing wireline and wireless service issues," Lewandowski said. "We are investigating the cause and working as quickly as possible to restore service."
Later in the day, Lewandowski told the Courier Press that a "hardware-related issue" was found to be the problem.
Spokespeople from each of the four companies said they had been looking into the issue. At this point, the outage doesn't appear to be due to a malicious attack.
"A connectivity issue is currently causing a service interruption," said Karen Schulz, a spokesperson from Verizon, to the Tennessean. "Our engineers are aware of this issue and are working with our vendor partners to resolve this issue quickly. At present, we do not have an estimated time of resolution."
According to the Times Free Press, a Sprint employee told it that the interrupted service was due to a problem at a "local exchange provider," although that does not necessarily explain why other carriers in other states were affected.
Some have also speculated that server issues are what brought services down.
In a statement to AL.com, T-Mobile said, "Our engineers are in touch with the vendor regarding the source of the issue affecting customers. They are working restore service in the area as soon as possible."
@Half_Pint93 We're aware that customers across multiple carriers are affected in this region. Engineers are on it and working to... 1/2

— T-Mobile USA (@TMobileHelp) August 5, 2015