Armed suspect threatened to bomb Lakebay Marina in Washington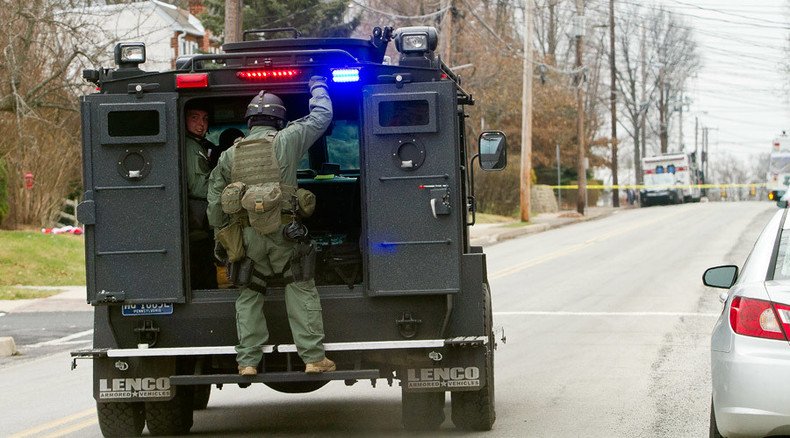 The Lakebay Marina in Washington state was evacuated Tuesday after a man reportedly fired a shotgun into the air and threatened to set off bombs which he claimed to have on board his boat, according to local news reports. He is now in police custody.
The suspect has been identified as Russell Beely and he reportedly surrendered to police, according to Komo News.
The marina is about an hour's drive from Seattle, Washington.
The Pierce County Sheriff's Department said the suspect, a 56-year-old man, was in a 30-foot cabin cruiser type boat, and claimed to have a bomb strapped to the marina fuel tanks, and to propane tanks on his own boat, Q13 Fox News reported.
A SWAT team arrived at the scene to deal with the situation.
Detective Ed Troyer from the Pierce County Sheriff's Department told Komo News that the area is secure following the evacuation order, but that the man is "threatening to blow up the marina."
Troyer said the man doesn't appear to have a criminal record and hasn't had any run-ins with the Sheriff's office.
"He does not have a history of doing this, and until we can figure out exactly what is happening, we're going to treat it as much as we possibly can with our resources to keep people from getting hurt, until we can determine what the actual threat is," he said.
Local authorities also sent a bomb disposal robot to the site of the Lakebay Marina, as well as a sharp shooter.
Bomb disposal robots are remotely controlled, usually equipped with cameras and an arm, and are used to defuse or detonate explosives.
You can share this story on social media: