A sinkhole grows in Brooklyn: six-meter crater swallows street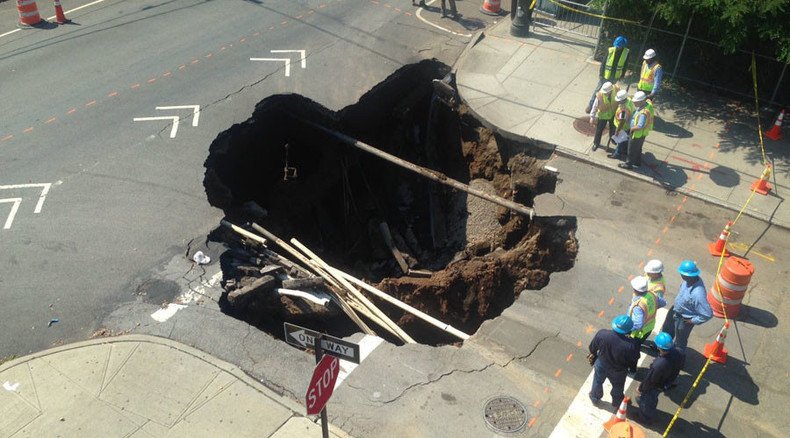 A massive sinkhole has swallowed up an intersection in Brooklyn, New York, snarling up traffic and causing water and gas outages to nearby buildings. Local residents are already joking about turning it into a rent-controlled apartment.
Dramatic images show the gaping hole in the corner of 64th Street and 5th Avenue, located just a short block away from the I-278, also known as the Gowanus Expressway, in Brooklyn's Sunset Park neighborhood.
The crater appeared shortly after 7:00am on Tuesday. There were no injuries.
"There were cars on it just minutes before," Frank Bowman, whose rooftop surveillance camera captured the cave-in, told WCBS radio. "There was no warning, this thing just happened quick."
Fire department and utility crews are at the site, securing the area and attempting to reconnect the severed utility lines, local media report. Police have blocked 5th Avenue, the area's busiest road. The crater, measuring 20 feet (six meters) deep and 20 feet across, has become a neighborhood attraction.
"I've never seen anything like this," one man told WCBS reporters. "This is really crazy."
Neighborhood residents have speculated that the road might have collapsed from the weight of large trucks, diverted along the street by construction under the nearby expressway. According to the New York Fire Department (FDNY), however, the likely culprit is the 48 inch (122 cm) cast iron water main.
"It appears to be some sort of water leak that undermined the road, washed away the earth and that's why the street gave way," FDNY Deputy Chief Peter Leicht told WCBS.
New Yorkers have already started joking about using the sinkhole as a residence.
Housing is notoriously expensive in New York, with the median rent for a one-bedroom apartment standing at $3,000 per month, the second-highest in the country after San Francisco. A third of New Yorkers spend at least half of their annual income on rent.
You can share this story on social media: