Kansas Taco Bell worker writes 'pig' on officer's order, gets fired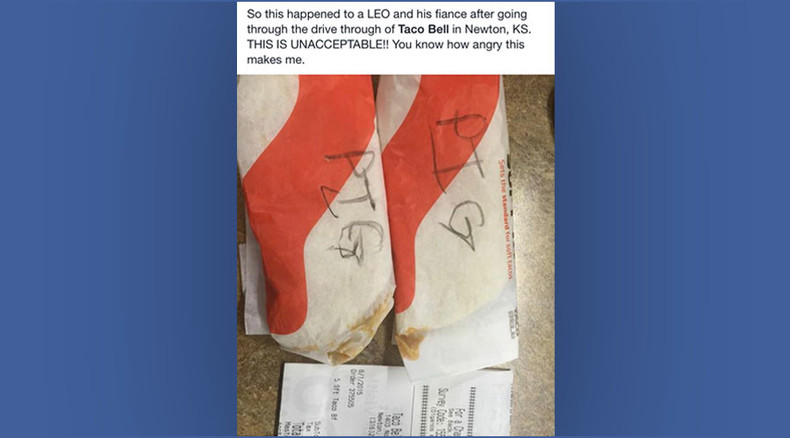 Taco Bell has fired the worker who wrote "pig" on a police officer's order, after the photo of the offending taco wrappers went viral and caused widespread outrage on social media.
A police officer in Newton, Kansas, went into the fast-food restaurant on Saturday with his fiancée, only to have his order delivered with the word "pig" crudely written on the wrappers.
The photo of the offending order first appeared in a private Facebook group for police officers' spouses, Newton police said. From there, it was sent to the media and began making the rounds, attracting outrage as it quickly went viral.
Newton is a community of 20,000 in central Kansas, 25 miles north of Wichita.
On Monday, Taco Bell director of operations Jeff Graves told KAKE-TV in Wichita that the offending employee had been fired.
"We do not share the same belief or view as the employee whatsoever," Graves told the station. "Our company, Taco Bell, has always been pro–law enforcement, military. We've always supported the police in our community. Many of our restaurants give police discounts when they come in and eat."
In a statement on Facebook, the Newton police said they did not support the popular outrage against Taco Bell, caused by the photo.
"We understand the incident was the action of an individual, and do not hold ill will to Taco Bell or any of its employees (even the individual who wrote the message)," they wrote. "We look forward to a long partnership with this local business, and sincerely hope this negative experience can be a catalyst for positive change."

"I am surprised the way this has taken off. It goes to show you that you never know what your actions, what results they will produce," Police Chief Eric Murphy told the Newton Kansan. "Especially in today's world of social media."
As a derogatory term for police, "pig" was reportedly first used in 19th-century England. It resurfaced in the US in the 1960s, during the counter-culture movement fueled by protests over the Vietnam War.
Taco Bell's first franchise opened in 1964, serving Americanized Mexican food. Today the popular chain has over 6,500 locations, and belongs to Yum! Brands, which also operates KFC, Pizza Hut and WingStreet.