Mystery church bombings rattle New Mexico town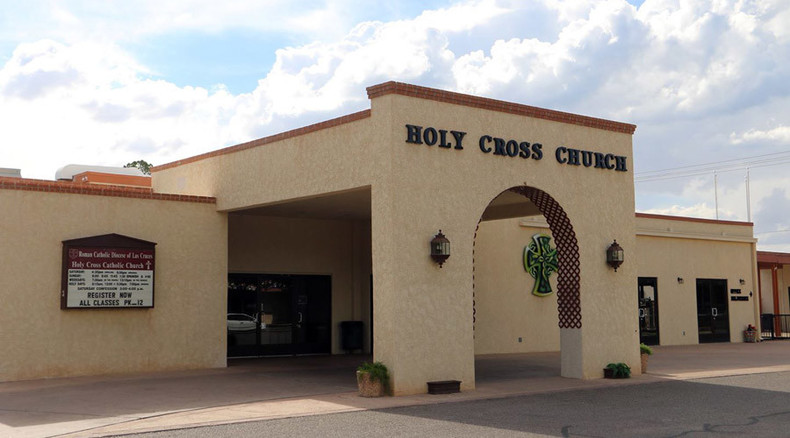 Residents of the New Mexico town of Las Cruces are on the edge after blasts at two churches on Sunday. Although nobody was hurt, officials are looking into a possible link between the incident and last month's Charleston church shooting.
The first explosion occurred about 8:20am in a mailbox near the entrance to Calvary Baptist Church, on the south side of the city.
"It was in a mailbox that exploded completely," said Dennis Llewellyn, a former Marine who was handing out pamphlets at Calvary Baptist before the service. He compared the sound of the blast to a Claymore landmine.
"The mailbox was completely opened up and twisted and blown apart. It just obliterated everything. If anyone was in front of it, it would have killed them" Llewellyn said.
The second blast came twenty minutes later at the Holy Cross Roman Catholic Church, some 3.5 miles away. A trash bin outside the church exploded during the Communion service.
"That explosion occurred near the front entrance," said Dan Trujillo of the Las Cruces Police Department. "The trash can was right near a front entranceway and had there been somebody within close proximity, they may have well been injured."
Both churches have been closed until further notice, police said, adding that the bombings are under investigation and there are currently no suspects.
"We'll look into them to see if they are connected," Trujillo said. "It seems like they might be."
In addition to state and local authorities, the FBI, ATF, Department of Homeland Security and New Mexico State University Police have joined the investigation, AP reported.
READ MORE: S. Carolina church shooting suspect arrested; identified as Dylann Storm Roof, 21
While there were no immediate indicators of a connection, FBI spokesman Frank Fisher said the agents will look into any possible links between the blasts and the June attack on a black church in Charleston, South Carolina, where nine parishioners were killed.
"That's definitely part of the investigation (but) it's too premature to make any conclusions," Fisher said.
New Mexico governor Susana Martinez told reporters that the bombs were improvised explosive devices (IEDs), "meant to cause harm, injury and damage."
"Only a coward would place an explosive device in a place of peace and a place of worship," said Martinez. "Whoever did this will feel the full pressure of the law."
If the bomber's objective was to intimidate churchgoers, she added, he failed. "Our faith is too strong and our fellowship is unbreakable… we will not let fear take hold of us."
The bombings were also condemned by lawmakers representing New Mexico in Washington.
"While I'm relieved that no one was hurt, I'm disturbed that it appears the explosions were intended to cause harm," said Senator Tom Udall (D-NM). "New Mexicans will not tolerate this unconscionable violence or attempts to instill fear in our places of worship."
"Let us all make absolutely clear that New Mexico will not tolerate violence against our houses of worship or attempts to spread fear and division among us," added Senator Martin Heinrich (D-NM).
Las Cruces is the second largest city in New Mexico, with a population of just over 101,000, and home of the New Mexico State University.