New emissions rules for power plants bring fears of higher energy bills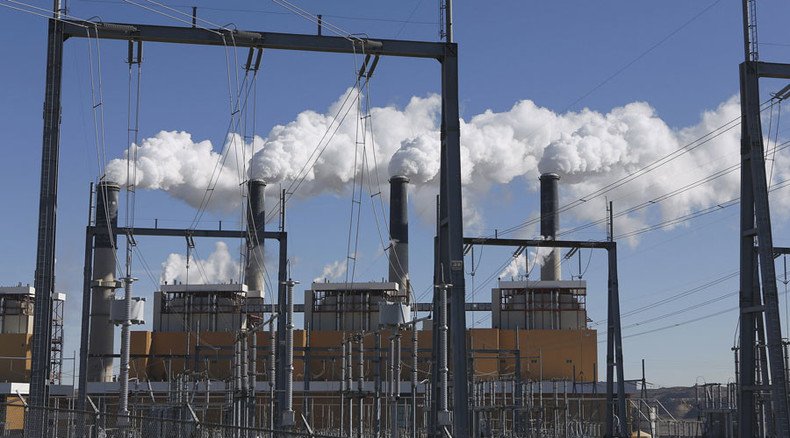 The Obama administration has released its final Clean Power Plan which regulates carbon emissions from US power plants. The plan calls for a 32 percent reduction in emissions from 2005 levels by 2030. However, some worry higher energy bills are in the works.
On Monday afternoon, President Barack Obama has formally announced the updated plan that was first issued in June 2014. The proposal is the headline policy of Obama's Climate Action Plan, which aims to cut overall emissions 26 percent to 28 percent by 2030, based on 2005 levels.
"Shaped by years of unprecedented outreach and public engagement, the final Clean Power Plan is fair, flexible and designed to strengthen the fast-growing trend toward cleaner and lower-polluting American energy," the US Environmental Protection Agency (EPA) said in announcing the plan.

The original plan called for a 30-percent carbon-emission reduction from 2005 amounts by 2030. With the new call for a 32-percent reduction, the Obama administration said Sunday that goal will help reduce climate-warming carbon emissions beyond 2030.

"That will help drive deeper decarbonization not just in 2030, but in subsequent years as well," said Brian Deese, a policy advisor to the president, according to Grist.org. "This rule gives us a strong foundation to keep pushing forward against our international commitments and is stronger when you look out at 2030 and beyond."
READ MORE: Supreme Court strikes down EPA rules on mercury emissions from power plants
The new plan will require the EPA to issue individual emissions goals for each state. Those outlines have not been released.
The tweaks to the 2014 proposal will extend across the amount of time – from 2017 to 2018 – allotted to states to finally issue their individual plans outlining how they intend to meet reduction standards. States will also have until 2022, rather than 2020, to achieve those their targets.
Some revamped aspects of the plan go further than the original in restricting carbon dioxide emissions and other pollutants from the likes of coal-fired power plants. For instance, the new plan puts less emphasis on shifting to natural gas and more on renewable sources of energy.

The updated plan will aim for the US to get 28 percent of its power from renewable sources by 2030. The original plan called for 22 percent. States will be offered credits from renewable energy production through an energy incentive program. Credits could be traded between states.


The emphasis on renewables is being blamed, in part, for the belief that energy bills in the US will rise as a ramification of the new proposal.

"This regulation will be exceptionally difficult for manufacturers to meet and will increase energy prices and threaten electric reliability," said the National Association of Manufacturers in a statement. "Manufacturers are committed to being responsible stewards of our environment, leading the way in that effort, and we are disappointed the Obama Administration has chosen to pursue this path."
READ MORE: 'Hands off my dishwasher Obama!': Energy-efficiency plan riles industry, conservatives

The White House claimed that the new rules will help prevent up to 3,600 premature deaths; 1,700 non-fatal hearth attacks; 90,000 asthma attacks among children; and 300,000 missed work- and schooldays. The plan will help create tens of thousands of jobs while saving the average family about $85 a year on energy bills in 2030, the White House added.

The plan's opposition, which had already threatened legal challenges prior to the new proposal, reiterated their misgivings, calling the EPA's rules "illegal."

"Even in the face of damning analyses and scathing opposition from across the country, EPA's final carbon rule reveals what we've said for months – this agency is pursuing an illegal plan that will drive up electricity costs and put people out of work," said Mike Duncan, president and CEO of the American Coalition for Clean Coal Electricity.
"This rule fails across the board, but most troubling is that it fails the millions of families and businesses who rely on affordable electricity to help them keep food on the table and the lights on."
The share of coal power in the US will drop to 27 percent in the new plan, as opposed to 31 percent in the original. Coal defenders said the rules will be a struggle to meet, yet supporters of stricter rules said many states were already moving away from coal plants and towards natural gas and zero-carbon renewables.
READ MORE: Researchers who boosted EPA climate change rules cooperated with govt - report

Others say the plan doesn't go far enough. They point out power plant emissions have already dropped 15.4 percent from 2005 levels, which represent almost half of the new plan's requrements.

"In other words, even under the strengthened plan, the rate of decarbonization is expected to slow over the next 15 years," wrote Michael Grunwald in Politico. "What, did you think the strongest action ever taken to combat climate change would actually accelerate the nation's efforts to combat climate change?"

Grunwald added that rather than representing the boldest action undertaken by the Obama administration to combat climate change, it is actually the fourth most stringent policy aiming to reduce global warming.

The new plan ranks behind the 2009 economic stimulus package, which offered $90 billion for clean energy; new fuel-efficiency rules for cars and trucks; and efforts to crackdown on mercury and other air pollutants, he wrote.

As for coal, "the EPA expects the decline of coal to abate somewhat under the Clean Power Plan, even though the average coal plant is over 40 years old, nobody is planning new coal plants, and the coal industry is already scrambling to comply with a barrage of new clean-air and clean-water regulations that have nothing to do with carbon," Grunwald wrote.

In addition, Vox's Brad Plumer pointed out that US power plants were responsible for only 31 percent of national greenhouse-gas emissions in 2013. Thus, the new goals aren't as spectacular as advertised.

"So if all goes as planned, the Clean Power Plan amounts to a 6 percent cut in current US greenhouse-gas emissions by 2030," he wrote.

The plan comes ahead of the United Nations climate talks scheduled for December in Paris.
You can share this story on social media: