'Hands off my dishwasher Obama!': Energy-efficiency plan riles industry, conservatives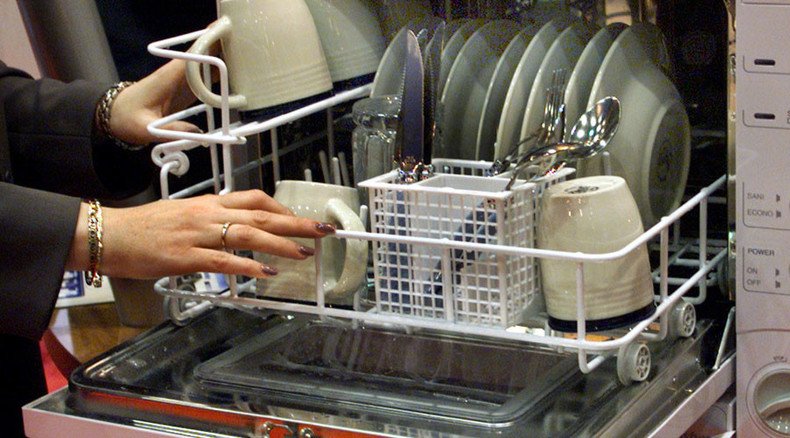 Energy-efficiency standards for dishwashers proposed by the US Department of Energy would turn "back the clock to the days of hand-washing dishes," industry claims, as the new rules aim to save $2 billion for consumers over 30 years.
The Association of Home Appliance Manufacturers (AHAM) has spoken out against the Department of Energy's proposal for energy and water cuts associated with residential dishwashing machines. The department's proposal was announced in December. It called for savings of 240 billion gallons of water over the next 30 years while reducing energy use by 12 percent. The goals include significant reductions in emissions of carbon dioxide, methane, sulfur dioxide, nitrogen oxides, and mercury involved in the energy sector.
AHAM says the plan will "undermine the energy and water savings" since dishwasher users may have to repeat a machine washing cycle or hand-wash dishes. The home appliance lobby said it conducted its own tests using the Energy Department's regulatory proposal, finding that dishwashers would be reduced to 3.1 gallons per wash cycle. This 24-percent cut in energy and 38-percent cut in water "will trigger enormous consumer dissatisfaction," the group claimed.
"Home appliance manufacturers recently completed several rounds of testing to the proposed standards," AHAM wrote. "The testing revealed a build-up of film, fats and grease on dishes at the end of the cycle. As a result of the proposed standards, it is highly likely that consumers will pre-wash dishes or choose to repeat dishwasher cycles, thereby erasing any energy or water savings."

The proposed standards could mean that more than 70 percent of dishwasher owners "could actually experience a net financial loss when purchasing a product that meets the proposed levels," according to AHAM's analysis.
"At some point, they're trying to squeeze blood from a stone that just doesn't have any blood left in it," Rob McAver, AHAM's top lobbyist, told The Hill.
The Department of Energy has said that just the cut to carbon emissions in the proposal could mean billions in savings for the public.
The department did predict that the plan would cut the residential dishwasher industry by about one-third, and that plan would ultimately hit industry with $200 million in compliance costs.
The department said that it is still crafting its final rules on dishwashers, taking into account manufacturer concerns.
"The department has not put a fork in this rule, and has extended the comment period to work closely with manufacturers to test new products and ensure that consumers have the most efficient, highest performing products available," an agency spokeswoman said, according to The Hill.
AHAM includes major appliance makers, including GE Appliances and Lighting and Whirlpool Corp.
You can share this story on social media: