White House placed on lockdown after woman jumps barricade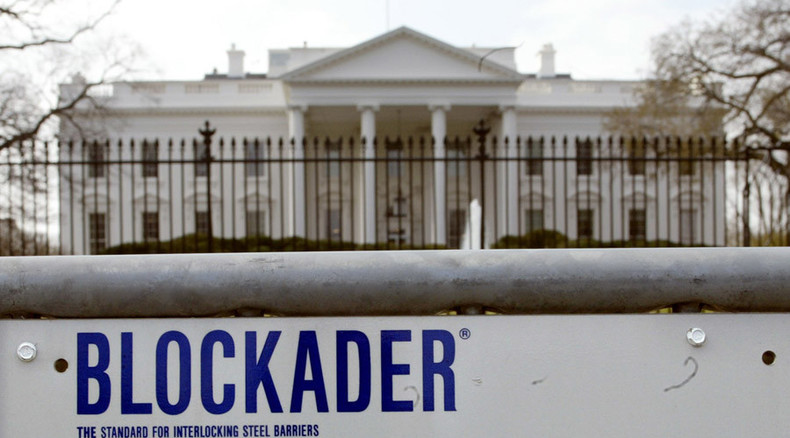 The White House was briefly placed on lockdown after a woman jumped over a security barricade in front of a fence on Pennsylvania Avenue. The woman was eventually arrested by the Secret Service.
According to CBS News reporter Mark Knoller, the jumping incident occurred around 7 pm on Friday. He also tweeted about 30 minutes later that the Secret Service had apprehended the female intruder.
WH in security lockdown after woman jumps barricade in front of WH fence on Pennsylvania Avenue.

— Mark Knoller (@markknoller) July 31, 2015
Jumper arrested by USSS uniformed division. WH lockdown lifted.

— Mark Knoller (@markknoller) July 31, 2015
The identity of the woman has not been revealed, but the lockdown was lifted after she was arrested, Knoller said.
It doesn't appear that the woman made it very far, but her leap over the barricade is noteworthy since it is the first time someone has tried to make their way onto the White House grounds since contractors installed extra spikes as a deterrent in early July.
According to the Washington Post, there's nothing to suggest the woman made it past the permanent fence, which features the new set of spikes.
Suspect jumps White House fence because its been a few weeks since this has happened & security thought what the hell http://t.co/LRZvVqlxAJ

— Brooklyn Middleton (@BklynMiddleton) July 31, 2015
Those new spikes appeared as the Secret Service has been looking to beef up security at the White House ever since a string of people managed to make it past the barricades. In some cases, potentially dangerous individuals were able to proceed alarmingly far – even into the White House itself – before they were detained by security.
In September 2014, a 42-year-old military veteran named Omar Gonzalez made headlines after he was able to get past the fence and enter the executive mansion with a knife before the Secret Service nabbed him. President Barack Obama and his family had only just left the grounds some 10 minutes before the incident occurred.
READ MORE: Keep out: White House fence gets extra spikes
Before that, Jeffrey Grossman, 26, hopped over the fence in pursuit of President Obama, because he wanted the president to help him with his health insurance.
The string of intrusions ultimately contributed to the resignation of then-Secret Service Director Julia Pierson.
In March 2015, the fence was jumped by two people in one night. Both were quickly arrested.