TSA chief vows security overhaul after 96% failure rate in detecting weapons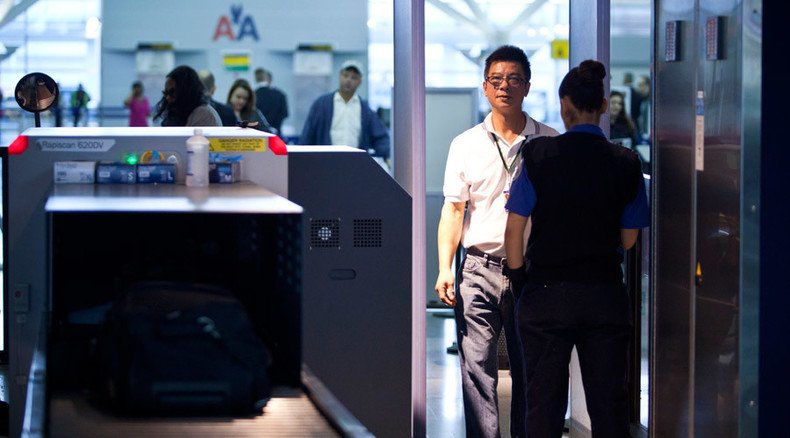 Still reeling from a report that found the US Transportation Security Administration failed to uncover 96 percent of explosives going through the nation's airports, the agency's newly appointed chief vowed to close the disturbing security gaps.
Transportation Security Administrator Peter Neffenger told Congress that the department will begin retraining thousands of airport security screeners and place new limits on a TSA program that allows travelers to pass through an expedited security screening.
"My highest priority is to ensure solutions to the recent covert testing failures," said Neffenger at a hearing conducted by the House of Representatives. "This is a huge concern and it greatly disturbs me that we had that failure at the checkpoint."
READ MORE: Inspectors audit shows TSA failed to vet 73 workers 'linked to terrorism' – report
The covert testing failures Neffenger referred to were detailed in a leaked report conducted by the Department of Homeland Security's Office of the Inspector General. The report found that TSA agents failed to detect fake bombs and weapons at security checkpoints 67 out of 70 times, or nearly 96 percent of the time.
It also found that 73 aviation workers had potential ties to terrorism, though the TSA said it determined those people did not pose a safety threat.
"These findings shatter public confidence," said Rep. Michael McCaul (R-Texas), the chariman of the House Homeland Security Committee, during the hearing. "A reported 96 percent failure rate to detect explosives is completely unacceptable."
"What are you planning to do as the new TSA administrator to address this enormous failure?" McCaul asked.
Neffenger, who served in the Coast Guard for 34 years, said he will review a proposal calling for daily screenings of airport employees. He said it's also possible that boarding passes will be replaced by biometric screenings involving fingerprints or eye scans in the future. The use of explosive-detecting dogs could also be expanded.
He added that the TSA will concentrate on filling security gaps rather than ensuring lines at airports move quickly and efficiently. When the inspector general's report was leaked, critics of the TSA charged it of becoming caught up in making security screenings quicker.
"TSA is handing out PreCheck status like Halloween candy in an effort to expedite passengers as quickly as possible, despite the self-admitted security gaps that are being created by the process," said Rebecca Roering, a TSA assistant security director in Minnesota, at a June hearing, according to the New York Times.
You can share this story on social media: