WH on pardon petition: Snowden should 'accept the consequences' of leaks, face trial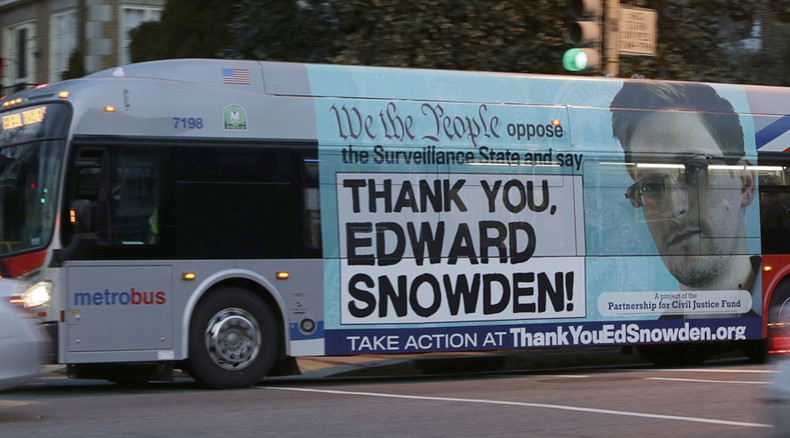 It has taken more than two years, but the White House has finally responded to a petition asking the Obama administration to pardon NSA leaker Edward Snowden. The government's answer is a resounding "no," avowing that he should answer for his actions.
On June 9, 2013, shortly after Snowden began leaking documents about the National Security Agency's secretive spying programs, a Rochester, New York resident set up the petition on the White House's We the People website. It garnered well over 167,000 signatories from across the country since Russia granted and extended temporary asylum to Snowden.
"Edward Snowden is a national hero and should be immediately issued a a full, free, and absolute pardon for any crimes he has committed or may have committed related to blowing the whistle on secret NSA surveillance programs," the petitioners wrote.
After two years of ignoring the petition, the Obama administration finally responded with a clipped dismissal by Lisa Monaco, the president's advisor on homeland security and counterterrorism.
While Snowden maintains he was acting in the best interests of the American people, he did not act appropriately by leaking the information, she wrote.
"Instead of constructively addressing these issues, Mr. Snowden's dangerous decision to steal and disclose classified information had severe consequences for the security of our country and the people who work day in and day out to protect it," Monaco wrote in the response.
"If he felt his actions were consistent with civil disobedience, then he should do what those who have taken issue with their own government do," she continued. "Challenge it, speak out, engage in a constructive act of protest, and ‒ importantly ‒ accept the consequences of his actions. He should come home to the United States, and be judged by a jury of his peers ‒ not hide behind the cover of an authoritarian regime. Right now, he's running away from the consequences of his actions."
In March, Snowden revealed that, since fleeing the country, he has been in negotiations with the US government to secure terms for a fair trial should he decide to return to America. However, he says that he has no plans to do so in the near future because the US government is not willing to offer him a fair trial at the moment.
Snowden's ability to return to the US has been championed by former high-ranking government officials, including President Jimmy Carter and former Attorney General Eric Holder.
Carter said in March that a pardon should be on the table for Snowden if the former NSA contractor returned to the United States and was convicted of leaking classified agency secrets, though he made that statement with the caveat that he does not have "the information President Obama has about what has been done to our security apparatus."
"If he was found guilty and sentenced to death, I would certainly consider pardon," Carter said, noting that "you can't pardon someone who has not been tried and convicted."
In July, Holder, who led the Justice Department until the end of April, said that the "possibility exists" for a deal to allow Snowden to return to the US.
"I certainly think there could be a basis for a resolution that everybody could ultimately be satisfied with. I think the possibility exists," Holder told Yahoo News in an interview. "We are in a different place as a result of the Snowden disclosures."
Holder said Snowden's "actions spurred a necessary debate" that prompted President Barack Obama and Congress to change policies regarding the bulk collection of American citizens' phone records.
However, Melanie Newman, chief spokeswoman for Attorney General Loretta Lynch, Holder's successor, immediately shot down the idea that the Justice Department was softening its stance on Snowden.
"This is an ongoing case so I am not going to get into specific details but I can say our position regarding bringing Edward Snowden back to the United States to face charges has not changed," she said in an email to Yahoo News.
You can share this story on social media: