Gunshots fired at 3 black churches in 3 days outside Charleston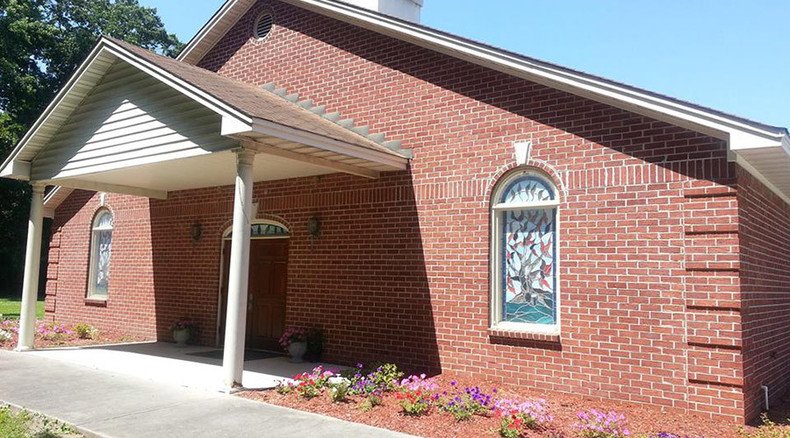 Three historically black churches in the same town outside Charleston, South Carolina have been struck with bullets within a three day period. Mount Sinai Evangelistic Church of Jesus Christ on James Island was the latest hit with gun-related vandalism.
Investigators were called to the church Friday morning, where they found five bullet holes in a stained-glass window.
"When I saw it, I said, 'It could not be us, not us,'" Elder Jerome Fludd, who found the damage, told WCSC. "Who would think after the [Emanuel] Nine that this would spill over to James Island and to the other churches."
Deputies found shell casings outside the building, Charleston County Sheriff's Maj. Eric Watson said.
"I do pray they find a fingerprint on it so they can apprehend that individual because there's a dangerous individual that's running around," Fludd said.
The shooting, discovered on Friday, was the third one at a historically black church on James Island. On Wednesday, a parishioner discovered four bullet holes in the windows of Bethel AME Church and broken glass in the sanctuary. The damage to the building was estimated to be $4,000, WCSC reported.
On Thursday, the pastor at James Island United Congregational Church, which is owned by Bethel AME, discovered bullet holes in his house of worship. He told WCIV that he thinks someone is trying to wage a war on churches in the area, but that he was thankful that no one was in the building when the vandalism occurred.
"Suppose this church was in operation and we were having service and this going on. It would've been very terrible," Pastor Hercules Champaign said.
Black churches have been targeted across the country with gunfire and arson after a gunman killed nine people at a Bible study at Emmanuel African Methodist Episcopal (AME) Church in Charleston on June 17. Dylann Storm Roof, 21, who confessed to the killings, has been charged with nine counts of murder, three counts of attempted murder and 33 federal counts, including hate crimes, firearms violations and obstructing the practice of religion.
The two other churches are within half a mile of Mount Sinai, though investigators haven't officially linked the three shootings.
"If it is the same person we're talking about, someone that is pretty hateful and trying to close the doors of the churches, and under no circumstances can we do that," Charleston City Councilman William Dudley Gregorie told WCSC.
All three churches are working with the Charleston Police Department to protect their buildings. The acts of vandalism will not close the doors of the sanctuaries to parishioners, Rev. Norvel Goff told WCIV.
Cars at a fourth church ‒ Mount Nebo AME in Awendaw, South Carolina ‒ were vandalized and had items stolen from them on Thursday night, but police do not believe the incident is connected to the three on James Island.
No one was injured in any of the incidents.
You can share this story on social media: