Texas ranch bigger than NYC and LA combined selling for $725 million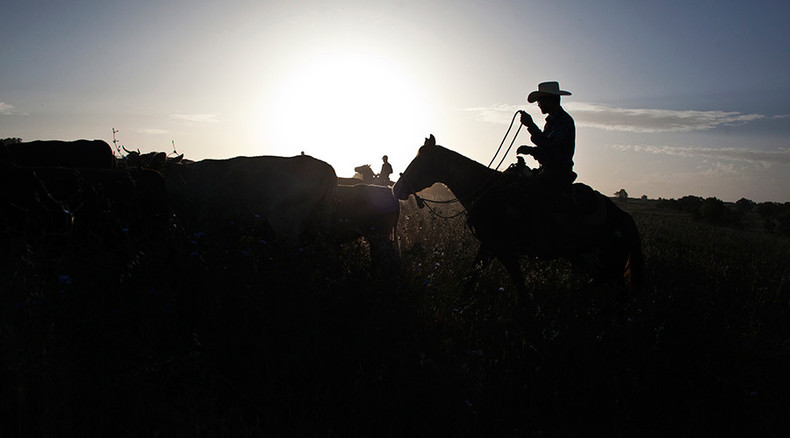 The biggest ranch in the US is being sold for $725 million. Measuring 798 square miles, the price includes more than 1,000 oil wells, 6,800 heads of cattle, 500 horses and 30,000 acres of cropland.
The ranch sprawls over six counties in Texas and is bigger than Los Angeles and New York City combined.
There were more than 600 inquiries from buyers interested in the W.T. Waggoner Ranch, which was first established in 1849 and sits 175 miles northwest of Dallas.
The "For Sale" notice said that it is the largest ranch in the US within a single fence, with more than 1,000 wells that pumped 35,000 gallons of oil a month, thousands of cattle, quarter horses and acres of cropland.
The brokers said the property was "ideal for Saudi oil sheiks, billionaire hedge funders and dot-commers who can tell a cow from a steer," and that it was profitable, with zero debt and property taxes of only $800,000 a year.
The ranch has been in the Waggoner family for four generations, but for the last 20 years it has been a source of contention, in litigation between branches of the family over whether to sell it or divide it up.
"It's a shame the ranch is for sale. I really hope that whoever gets this ranch will keep it as a working cattle ranch," Brooke Wharton, one of the family members, told KFOR News.
"The cowboy and ranching way of life is dying anyway, so to see something like this completely get lost, it'd be a big loss."
Two brokers were tasked with selling the ranch, which takes days to see all of, what with its hundreds of miles of roads.
"Everything you can see, as far as the eye can see, is the ranch," Bernard Uechtritiz told Bloomberg. He pointed straight ahead, then behind him and then left. "Each horizon is this ranch."
It is one of the 20 largest cattle ranches in the US and is known worldwide for its quarter horses, an American breed that excels at sprinting for short distances.