Spoof made real: The Onion jokes on US offering missiles to Israel, turns out true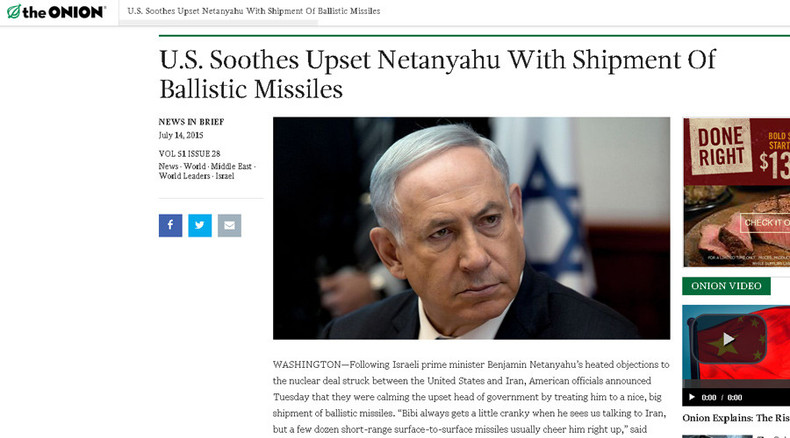 Satirical website The Onion has unintentionally made an accurate prediction, running a spoof story about Washington's readiness to ship missiles to Israel after the Iranian nuclear deal. Just 24 hours later media reported that the missile offer was real.
The fake news story, which appeared on the Onion on July 14, was headlined "US Soothes Upset Netanyahu with Shipment of Ballistic Missiles."
In the piece, a made up US State Department spokesman, Daniel Goldman, made the following bolstering statement: "Bibi [Israeli Prime Minister Benjamin Netanyahu] always gets a little cranky when he sees us talking to Iran, but a few dozen short-range surface-to-surface missiles usually cheer him right up."
"Of course, we try not to spoil him by giving him a whole new tactical ballistics delivery system every single time he throws a fit, but our guy's pretty good at getting his way. At least we'll have a couple months of peace and quiet around here," he added.
Ironically, the very next day one of Israel's leading newspapers, Haaretz, posted an article, entitled "After Iran deal, Obama offers military upgrade to help Israel swallow bitter Iranian deal."
According to Haaretz, US President Barack Obama, offered Netanyahu "immediate talks to upgrade the Israel Defense Forces' offensive and defensive capabilities" after the world powers persuaded Iran to curb its controversial nuclear program in return for easing of sanctions.
READ MORE: US 'to boost' military aid to Israel after Iran nuclear deal
Tel-Aviv has slammed the deal as a "stunning historical mistake," saying that it won't prevent its main geopolitical rivals in Tehran from developing a nuclear bomb.
Haaretz noted the similarity between its own and the Onion report in a blog post: "There's no other way around it: the fake newspaper broke the story."
However, there still were some differences between satire and life because, according to Haaretz, Netanyahu actually turned down the US proposal "believing that any kind of reciprocal deal would be construed as Israel having come to terms with the Iran nuclear deal".
US officials told AP on weekend that Washington has no plans of offering new weaponry to Tel-Aviv as compensation for the Iran deal.
READ MORE: Iran nuclear deal gets UN endorsement, paving way for sanctions relief
On Monday, the Iranian nuclear deal was unanimously endorsed by UN Security Council, with the resolution stating that sanctions will be lifted over the next 10 years should Tehran adhere to the agreement.