US 'to boost' military aid to Israel after Iran nuclear deal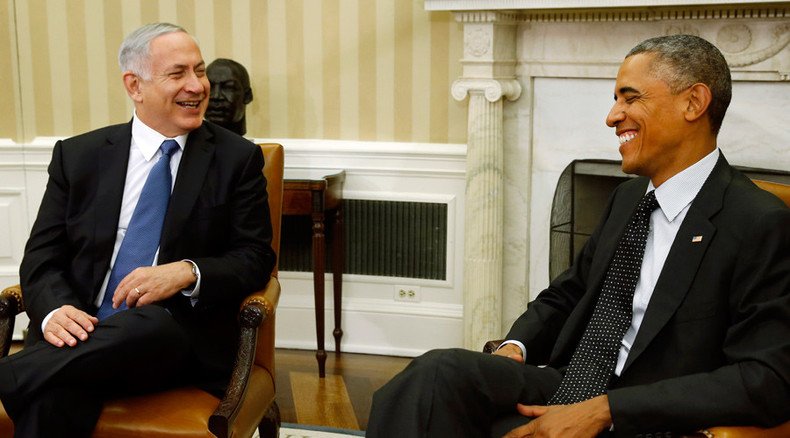 The US has offered to increase military aid to Israel by another $1.5 billion per year to ease tensions over the nuclear deal with Iran, media has reported. Defense Secretary Ash Carter is expected to make the offer during next week's visit to Tel Aviv.
The proposed increase would see Israel getting an additional squadron of F-35 fighter jets, funding for research and development of missile defense systems, and ammunition to replenish the stocks used in last year's bombing of Gaza, Israeli sources told Jerusalem Post.
Under the current arrangement, Israel is receiving $3 billion a year, most of which is used to purchase US military hardware such as fighter jets and missile defense systems. Israeli and US officials have been discussing increasing the amount of aid to anywhere between $4.2 and $4.5 billion per year, sources familiar with the talks told the New York Times.
The new arrangement would go into effect in 2018 and last for a decade. Secretary Carter is expected to present the offer to his Israeli counterpart and good friend Moshe Ya'alon, Israeli sources said.
Netanyahu is reportedly reluctant to discuss US aid "at this juncture," since that would mean giving tacit approval to the agreement the US and five other countries reached with Iran earlier this week.
The Israeli PM called the deal a "historic mistake" and may be hoping that the US Congress will refuse to endorse it before it goes into effect.
The WH would like to link these discussions to the #IranDeal as a means to "compensate" & adjust, as they've done with the Gulf States.

— David Shor (@IshYimini) July 16, 2015
Iran and the "P5+1" group – including five permanent UN Security Council members and Germany – signed an agreement on Tuesday to curtail Iranian atomic research over the next 15 years in exchange for lifting nuclear-related sanctions and embargoes.
Israel has already negotiated the purchase of two F-35 squadrons, totaling 33 jets. The first delivery is scheduled for 2016. Much of the rumored increase in US aid may be in the form of additional F-35s, notorious for cost overruns and plagued by performance problems.
According to the Jerusalem Post, the Israeli Air Force is expected to hold a number of exercises with US and European countries for the first time in six years. They will be aimed at "dealing with long-range missile attacks and flights to distant countries."
However, the paper's sources noted the US would likely require assurances from Prime Minister Benjamin Netanyahu that Israel would not launch any military operations without first informing Washington.
Meanwhile, Isaac Herzog, leader of the Israeli parliamentary opposition, said Tuesday that he would soon be traveling to the US to "advance a package of security measures to suit the new situation," according to the New York Times.
Netanyahu won a fourth term as PM in a closely contested election in March, defeating Herzog's Zionist Union coalition. Sources close to his Likud party have accused the Obama administration of funneling money and advice to Herzog in order to defeat Netanyahu, whose relations with US President Barack Obama have been chilly for years.
You can share this story on social media: