Tennessee gunman sought religious guidance on violence, was bipolar – reports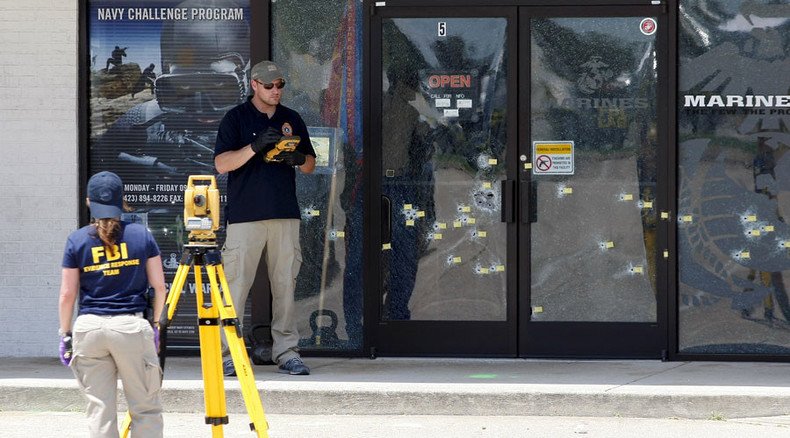 New details emerging about Chattanooga, Tennessee gunman Mohammed Abdulazeez depict a disturbed, suicidal young man using drugs, suffering from mental illness and facing an appearance in criminal court, according to his own writing, family and friends.
Analysis of Abdulazeez's smartphone and other electronic devices showed internet research for militant Islamist "guidance" on committing violence that, once carried out, he hoped would clear away his sins on earth, ABC News reported, citing FBI officials. Those sins allegedly included drug and alcohol abuse, an arrest and a lost job.
Agents were analyzing the alleged gunman's smartphone over the weekend at an FBI laboratory in Quantico, Virginia, as part of an investigation, both in the US and Jordan, over what prompted the engineering graduate to attack two military sites that left five service members dead on Thursday in Tennessee.
The FBI said that there doesn't seem to be any evidence of Islamic State inspiration for the attacks, and that 24-year-old Abdulazeez was not in any US databases of suspected terrorists, according to CNN.
James Petty, a friend of the gunman, told CNN on Monday that Abdulazeez thought Islamic state (IS, formerly ISIS/ISIL) was "doing wrong" and that "it was a stupid group and it was completely against Islam."
Other details emerging about Abdulazeez come from his own diary and from statements by friends and family. They show a checkered history with drugs and alcohol, mental problems, and job instability and insolvency.
A year after graduating with his engineering degree, Abdulazeez lost his job at a Perry nuclear power plant in Ohio, only 10 days after failing a federal background check. He wrote in 2013 about having suicidal thoughts and of "becoming a martyr."
A family representative told CNN that Abdulazeez abused sleeping pills, opioids, painkillers and marijuana, along with alcohol, and was in a downward spiral.
READ MORE: Tennessee shooter previously fired for failing background check
Most recently, at a new job, the young man started having problems dealing with a 12-hour overnight shift at a manufacturing plant and had to take sleeping pills because he had problems sleeping during the day, according to the family representative. He was also thousands of dollars in debt and considered filing for bankruptcy.
According to CNN, a source with knowledge of the interviews given to officials by the family said Abdulazeez had trouble keeping a job because of his "manic depressive/bipolar disorder."
Three months before the shooting, Abdulazeez was arrested for drunk driving on April 20. He told a Chattanooga officer he was with friends who had been smoking marijuana. The report said Abdulazeez, who had white powder on his nose when he was stopped, told the officer he had also sniffed powdered caffeine.
The arrest was "important" because Abdulazeez was deeply embarrassed and seemed to sink further into depression following the episode, the family representative said, according to the Associated Press. Some close relatives learned of the charge only days before the shooting.
Abdulazeez was due to appear in criminal court in late July.
What appears to be driving much of his instability was mental illness, which the Abdulazeez family admitted in a statement released over the weekend.
"For many years, our son suffered from depression. It grieves us beyond belief to know that his pain found its expression in this heinous act of violence," the family said.
They added that "now is the time to reflect on the victims and their families, and we feel it would be inappropriate to say anything more other than that we are truly sorry for their loss."
A family representative told the FBI there was no outward signs of radicalization, but that their son "was susceptible to bad influences," and a seven-month trip to Jordan was an effort by the family to get him away from bad influences in the US.
Jordan security investigators have interviewed Abdulazeez's extended family, asking where he went and with whom he spokes, government sources there told CNN.
A person close to the family told the AP there was a longer period of mental illness revealing that Adbulazeez was first treated by a child psychiatrist for depression when he was 12 or 13 years old. Several years ago, relatives tried to have him admitted to an in-patient program for drug and alcohol abuse, but a health insurer refused to approve the expense.
Court records also point to a volatile family life, the AP reported. His mother filed for divorce in 2009, and accused her husband of sexually assaulting her and abusing their children. She later agreed to reconcile.
You can share this story on social media: