Hitching a ride: Talking robot aims to travel from coast to coast across US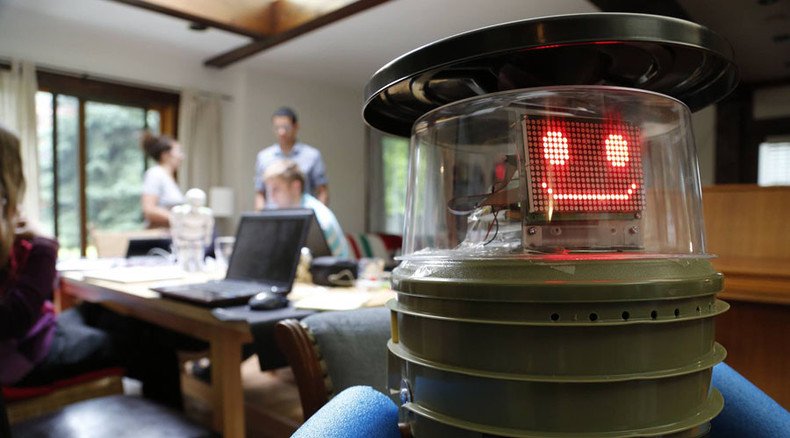 Would you trust a hitchhiker? What if he was a robot? The Canadian hitchBOT robot began his travels across the US in Boston, relying solely on the kindness of strangers. HitchBOT's journey to San Francisco can be followed on social media.
Two Canadian scientists designed hitchBOT as an art project as well as a social experiment, which examines how humans interact with robots.
"We want to see what people do with this kind of technology when we leave it up to them," one of the creators, Frauke Zeller, told AP. "It's an art project in the wild – it invites people to participate."
Curious how you will react? Watch for hitchBOT sitting on the side of the road with cowboy boots on, thumb raised and a big digital smile on his face.
The humanoid robot has successfully traveled as a hitchhiker across Europe and Canada. The Canadian trip from east to west took him 26 days.
On Friday, HitchBOT began his journey in Boston, Massachusetts with plans to make it all the way to San Francisco.
HitchBOT's bucket list includes hitting all the touristy spots like Chicago's Millennium Park, New York's Times Square, South Dakota's Mount Rushmore, and Arizona's Grand Canyon.
The humanoid cannot walk by himself and needs to be dragged around, but he can talk and even partially recognize speech. He has been programmed with facts from Wikipedia and can prove to be a fun companion on the road.
When explaining his plans, hitchBOT says: "Please pick me up and put me in your vehicle … Now I want to experience the American dream. Along with my newly shined wellies, I will be bringing a bucket list I made along with the help of my family."
After giving the friendly robot a ride, fellow travelers can pass him along to someone else on the road or simply leave him at a gas station or a rest area with his thumb raised. Drivers are only asked not to place him on busy roads and once in a while change the batteries.
To keep track of the robot, its creators are using a GPS signal as well as a camera, which takes pictures every 20 minutes. If consent is given, some of those pictures are published on social media. Moreover, hitchBOT is capable of recording conversations with strangers and storing them in his audio diary.
One of researchers' main priorities was to use low cost components when making the humanoid, in order to avoid the risk of people wanting to dismantle the robot and sell him for parts. Materials that have been used included a tablet PC, buckets, pool noodles, and plastic gloves. It is estimated that the robot's total cost is just under $1,000.
"It has a really low-tech look to it, something we dubbed the 'yard-sale esthetic,'" said the second researcher David Harris Smith, an assistant professor in communication studies at McMaster University in Hamilton, Ontario. "The head is actually an acrylic cake-saver."
If you are interested in tracking hitchBOT's adventures in the US, follow his Twitter, Facebook and Instagram accounts, which are regularly updated. In fact, his Twitter feed already has 35,000 followers.
You can share this story on social media: