Lyme disease surged 320%, high-risk areas expanding – CDC report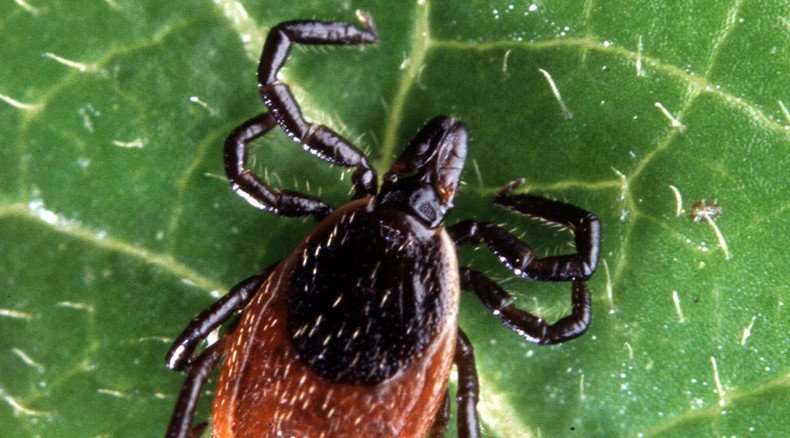 Lyme disease is not only growing more rampant in its normal hotspots across the US, but it's also spreading dramatically to new geographic areas where it has been virtually unknown previously, according to a study by the Centers for Disease Control.
"Over time, the number of counties identified as having high incidence of Lyme disease in the northeastern states increased more than 320 percent," researchers wrote in the report. They also noted that the disease is appearing in some states for the first time ever.
Cases in the US remain concentrated in in the Upper Midwest and the Northeast, but more parts of those regions are now considered to be at high risk for infection. There are now 260 counties where the number of Lyme disease diagnoses is at least twice that expected for the population as a whole, up from 130 a decade earlier, the report published Wednesday said.

"The risk is expanding, in all directions," said Kiersten Kugeler, the lead author of the CDC study.
The high-risk counties are distributed among 17 states. The entire state of Connecticut, where the disease was first identified in 1975, has been a high-risk zone for decades. High-risk zones now encompass nearly all of New England.
READ MORE: Antibiotic-resistant superbug has spread to majority of US states – CDC
Lyme disease is most common in wooded suburban areas, where the ticks that carry the disease tend to live. Scientists aren't sure why the high-risk areas are growing, but believe that it likely has something to do with development removing the disease-carrying ticks' natural predators, Kugeler said.
On top of that, ticks have a new crop of victims to attack with more humans moving into these areas. Climate change has led to warmer temperatures, causing ticks to spread their terrain into America's heartland from their normal abode on the more temperate East Coast, according to the Quartz website.
The Midwestern states of Minnesota, Iowa and Michigan have also seen an expansion of high-risk areas, as well as the Eastern states of Virginia, New York and Pennsylvania.
Lyme disease is transmitted through the bites of blacklegged deer ticks that carry the Borrelia burgdorferi bacteria. Short-term symptoms include fatigue, fever, and sometimes a bullseye-shaped rash centered on the bite.
Most people recover with help of antibiotics, but if left untreated the disease can lead to permanent problems such as arthritis and more severe issues such as motor function impairment and facial palsy. In some instances, Lyme disease can be fatal.
About 20,000 to 30,000 cases are reported in the US every year, but experts say that the actual number could be 10 times greater.
Some counties have been removed from the high-risk list, including those in Georgia, Virginia, North Carolina and Missouri, where significant clusters had been reported in the 1990s. The illnesses reported in those areas were caused by a condition from a different tick's bite, Kugeler said.
You can share this story on social media: