Destructive tornado rips through Illinois towns (VIDEO)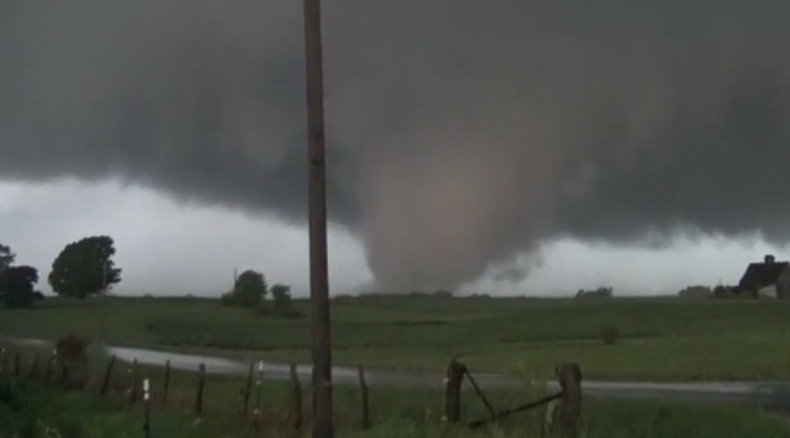 Mother Nature sent Illinois residents a surprise delivery on Thursday – in the form of a destructive tornado. Dramatic video footage shows the twister touching down as lightning streaks across the evening sky.
The video was taken in the rural town of Monmouth, located near the Iowa border. The twister, which touched down at around 7:30 p.m. local time, also swept through the towns of Kirkwood and Cameron.
According to Illinois State Police, the tornado caused "significant damage." However, no serious injuries were reported.
Photos on social media show some damage to a grain silo and heavy damage to at least one house.
The tornado also led to gas leaks and downed power lines in its wake. Thousands are without electricity in Monmouth and surrounding Warren and Henderson counties.
Cameron, a settlement of just 600 people, was cordoned off by police following reports of the tornado. Police asked the public to "stay away" from the area so they didn't interfere with emergency operations.
An emergency operations center was activated in Springfield by Illinois Governor Bruce Rauner, and a temporary shelter was set up at United High School near Monmouth.
National Weather Service meteorologist Andy Ervin said survey teams would be dispatched on Friday morning to determine the full extent of the damage and the strength of the tornado, AP reported.
A separate tornado is also believed to have hit Delevan, Illinois, on Thursday night, causing flooding and downed power lines and trees.
Residents are allowed to leave the town, but will not be able to return until further notice, according to officials.