Everything we know about the Tennessee shooter so far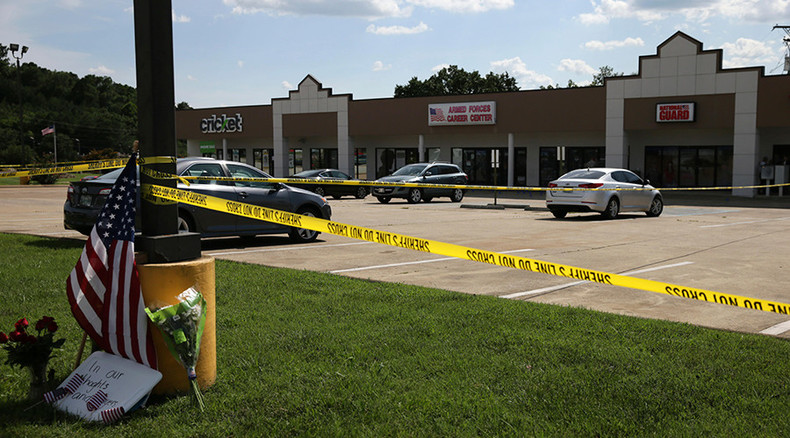 Tennessee officials identified Muhammad Youssef Abdulazeez as the alleged gunman who went on a shooting rampage Thursday morning at two separate military facilities, leading to the death of four US Marines and three injuries. The shooter is now dead.
Since news of his identity broke, details have been spilling forth about Abdulazeez, his background and his family – including the fact that his father was once investigated for potential terror ties.
READ MORE: At least 5 dead, 3 injured in shootings at 2 Tenn. military recruiting centers
A former engineering graduate, 24-year-old Abdulazeez was a resident of Hixson and lived in an upscale neighborhood just a few miles away from Chattanooga for at least 17 years. He was born in Kuwait and came to the US in 1996. His family members were all naturalized US citizens, but it is unclear if or when Abdulazeez became an American citizen, according to the Associated Press.
Abdulazeez attended Red Bank High School. He wrote "My name causes national security alerts. What does yours do?" between two pictures of himself in his yearbook entry
Pictures on social media have emerged of him celebrating with family members at his graduation in 2012.
He graduated with an engineering degree from the University of Tennessee at Chattanooga in 2012.
According to information available so far, the only spot on his record was an arrest for suspicion of driving under the influence in April.
Law enforcement officials said Abdulazeez had not been under investigation by the FBI, but that analysts and agents were combing files for any possible evidence that he had ties to foreign terrorist groups.
According to the New York Times, at one point his father, Youssuf Abdullazeez, was investigated for "possible ties to a foreign terrorist organization." He was reportedly questioned several years ago and had been included on a terrorist watch list before eventually being removed.
Neighbors told CNN reporters that the suspected gunman's siblings lived in their parents' home. Abdulazeez's father was appointed as a "special policeman" for Chattanooga's Department of Public Works in March 2005, the Chattanooga Times Free Press reported.
Within hours of the bloodshed, law enforcement officers with guns drawn swarmed what is believed to be Abdulazeez's house. Two females were led away in handcuffs.
However, the FBI later said no one else was in custody, the Associated Press reported.
A woman who had attended school with Abdulazeez said he was a quiet kid, but well-liked.
"While it would be premature to speculate on the motives of the shooter at this time, we will conduct a thorough investigation of this tragedy and provide updates as they are available," the FBI said in a statement.
Authorities at the scene declined to give specific details about the gunman earlier on Thursday afternoon, though they did say that investigators believed he was acting alone.
The shootings on Thursday morning took place just minutes apart, with the gunman stopping his car and spraying dozens of bullets. The first occurred at a recruiting center for all branches of the military. Abdulazeez then apparently drove to a Navy-Marine training center seven miles away, authorities and witnesses said, according to the Associated Press. The attacks were over within a half-hour.
Authorities would not say how the gunman died.
FBI agent Ed Reinhold told the AP that Abdulazeez had "numerous weapons," but would not give details.
The Marine Corps said four Marines had been killed, all of them at the Navy-Marine training site. A fifth Marine was wounded in the leg but not seriously hurt. In addition, a police officer was shot in the ankle, Chattanooga Mayor Andy Berke said.
The names of the dead were not immediately released.
After the shooting, the Department of Homeland Security said in a statement that it was "enhancing the security posture at certain federal facilities, out of an abundance of caution."
"The Department of Homeland Security is closely monitoring the tragic shooting in Chattanooga, and we are supporting the FBI-led investigation. We caution that, at this time, there are many unconfirmed and possibly false reports about events," said DHS Secretary Jeh Johnson.
"We express our condolences to the families of those members of the United States Marine Corps who were killed."
In Washington, President Barack Obama pledged a prompt and thorough investigation into the "heartbreaking" attack, and said the White House had been in touch with the Pentagon to make sure military installations are being vigilant.