A 'very expensive extension cord': Virginia community fights Amazon power line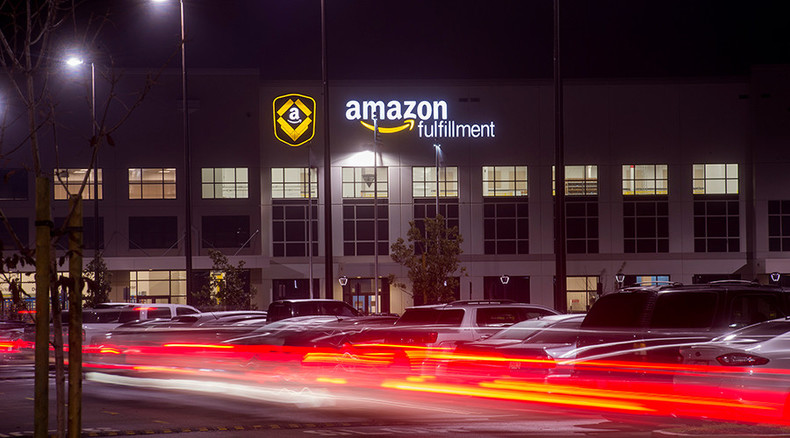 A small Northern Virginia community determined to stop the construction of a high voltage power line gathered at a local high school to protest the project, which is intended almost exclusively to service a planned Amazon data center.
The tech giant plans to set the "Midwood Center" on an undeveloped tract of land located at the end of the proposed power line near the small town of Haymarket, according to Mayor David Leake. The town has less than 2,000 residents, but its Northern Virginia location puts it in one of the nation's largest data center corridors.
"This is basically a very expensive extension cord for Amazon," Elena Schlossberg, executive director of the Coalition to Protect Prince William County, told a local CBS affiliate. "What we are saying is the community shouldn't be asked to forfeit their property, their historical resources, their environment, for one private end user."
READ MORE: Amazon, Apple spend record amount of lobbying cash
In addition to being expensive, the power line would be 110 feet tall and come with 120-foot wide easements. Protesters say this is adding insult to injury, and want to it to be built underground or not at all.
The protestors arrived by bus at an open house hosted by Dominion Power at a local high school, holding anti-Amazon signs and chanting slogans.
They want to push Dominion toward a "hybrid line" solution, one of the options currently being considered, which would run along the highway and be partially buried.
"They've got an emotional attachment, they've got a financial attachment to their community. They have every right to voice their sentiments about a project that's going to impact their community," said Chuck Penn, a spokesman for Dominion Power.
While it may be more pleasing to the eye, the hybrid line comes with additional costs. According to Penn, it would be four to 10 times more expensive to build than the above ground alternative. Those costs would be passed on to Dominion customers.
Mayor Leake seems to wholeheartedly agree with the protestors, telling CBS that Amazon should have sited their data center somewhere that already had a sufficiently developed power grid in the first place, and that he considered the hybrid line to be the only reasonable compromise.
"That is the only option," he said. "We only see it as one. There's only one option for this. Anything else ... there is only one option."
According to Penn, Dominion had no say in which route was chosen. The company will present its feasibility report to the State Corporation Commission, Dominion's regulator, in a few weeks. The SCC will then decide which route should be built.
Penn said that predicting the timing of the SCC's decision is almost impossible, but added that construction is unlikely to begin before 2016.