Trump goes meme: Butt plugs, cat photos starring The Donald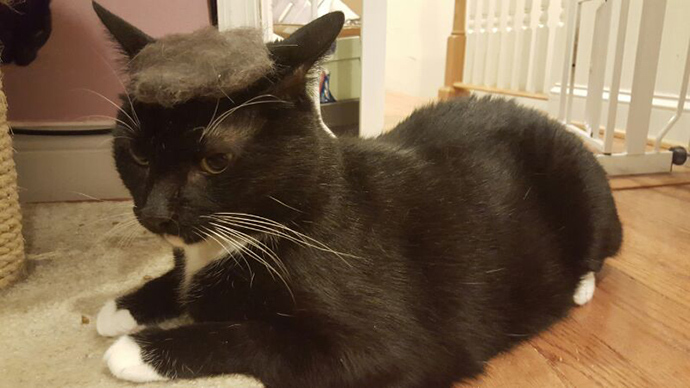 With billionaire businessman Donald Trump leading the crowded pack of 2016 Republican presidential candidates, it was only a matter of time before the internet took notice. Now there are sex toys and a cat meme based on the real estate mogul.
Critics have called Trump a variety of names due to his repeated derogatory comments about illegal immigrants. For instance, Washington, DC Mayor Muriel Bowser called the tycoon an "idiot" on Tuesday. One Florida-based artist has taken that name-calling to a whole new level by creating butt plugs in Trump's image, implying Trump has his head up his… rear end.
I present you the Donal Trump Butt plug. #dumptrump#immexicanamerican#fucktrump available: https://t.co/rzrlDtp5Zcpic.twitter.com/QDjajTIcpg

— Political Sculptor (@politicalsculpt) July 10, 2015
The designer, Fernando Sosa, is a 31-year-old who was born in Mexico and moved to the US two decades ago, according to his website. He took it personally when, during Trump's candidacy announcement in June, he said that the Mexican government was sending criminals ‒ namely rapists and drug dealers ‒ across the US border. In response, Sosa used his college degree in 3D animation to fire back at the man known for saying, "You're fired."
"I wanted to do something insulting," Sosa told the Huffington Post. "I like the mental picture of his face going into people's asses."
Sosa says he usually makes butt plugs "to insult dictators, homophobes and politicians." While Trump has a history of lawsuits against people using his likeness, the artist believes that his First Amendment right to free speech and Trump's position as a public figure protect him from such a suit, he wrote on his website.
"It does seem like he likes to file frivolous lawsuits, so he might sue me just to scare me," Sosa told the Huffington Post. "Rich people don't have to be right to sue. I'd love for him to take me to court."
The internet applauded Sosa's design, complete with Trump's iconic hairstyle and red tie.
I actually got on the phone and asked someone,"So when did you start making butt plugs?" http://t.co/YBUVhtWaHd

— Jamilah King (@jamilahking) July 15, 2015
The "3D-printed Donald Trump butt plug is the best the *sshole has ever looked," The Next Web's headline read.
Piñatas, buttplugs. Is there NOTHING Donald Trump can't be? I mean, you know, besides President. https://t.co/1xWkRdsvZ1

— Stephen Blackmoore (@sblackmoore) July 14, 2015
Sosa's "take on Trump sums up 'the Donald' more directly than a late night monologue or 'Daily Show' spot," Mic Wright wrote in the article. "It's an eloquent disavowal of Trump's claims and politics, but in the end, a satirical butt plug is worth more than a thousand words."
An artist made Donald Trump butt plugs to protest his political rhetoric. Bonus: Now Trump's head can be up someone else's ass for a change.

— J. Elijah Cho (@jelijahcho) July 15, 2015
The sex toy ‒ which is meant as a decorative item not recommended for actual use ‒ is made out of sandstone with "a coarse finish and a delicate feel." The butt plug measures 1.68 inches (4.25 cm) by 1.68 inches (4.25 cm) by 3.6 inches (9.12 cm), and sells for $27.99.
The Donald's hair is also the star of a more typical meme, too. The #TrumpYourCat hashtag marries the businessman to cats in a way only the internet could come up with: Social media users are posting pictures of their cats with "toupées" modeled after Trump's hairstyle.
"You know, it doesn't really matter what [the media] writes as long as you've got a young and beautiful piece of ass" - @realdonaldtrump via @evilgeniud
Participants in the trend brush their cats, then use the accumulated fur to create toupées, which they place on top of the cats' heads. Most felines are not amused.
"I do not wear a wig, my hair is 100% mine." @realdonaldtrump via @puckthemodel
#TrumpYourCat and the Trump butt plugs aren't the only way that cats and butts are making their mark on the 2016 presidential campaign, however: A five-year-old rescue tabby named Limberbutt McCubbins has joined the political fray, filing paperwork with the Federal Election Commission in May to declare his candidacy to become commander-in-chief.
"Before you laugh, note that Limberbutt boasts some considerable talent. Besides Donald Trump, he's easily the cutest and most snuggly candidate."Posted by Limberbutt 2016 on Wednesday, July 15, 2015
McCubbins is running as a "Demo-cat," according to his campaign literature. His slogan is: "Together, we cat."
The filing began as a joke, but its consequences are anything but, according to one of McCubbins' campaign managers, 17-year-old Isaac Weiss.
In life, there are barricades. Things that we cannot cross on our own. But that is okay. Because we are not a nation...Posted by Limberbutt 2016 on Friday, July 10, 2015
"Me and my friends have begun to realize how easy it is to run for office, and have learned about the way the FEC and campaign finance work," Weiss told the Huffington Post. "Not that we don't want anyone to run, but I personally don't think that if I'm applying to run for the most important position in the USA, that I should be able to do it in 20 minutes. Or less. And without immediately proving that I'm at least a US citizen."
And, of course, if you really want to marry cats and butts, there's always the Twinkle Tush, a jewel that hangs from the base of a feline's tail to cover its "brown eye."
There has been no word as to whether McCubbins endorses the feline fashion trend.