Michigan ends prison food deal with private company over maggots, drug smuggling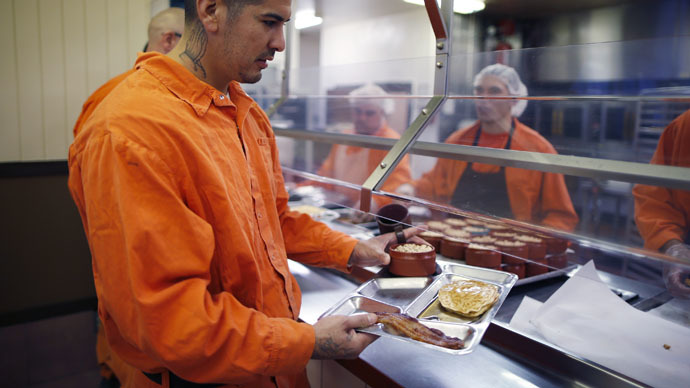 The state of Michigan has dropped its $145 million prison food service contract with Aramark Correctional Services after nearly 200 of the company's workers were fired or banned from prison property over a host of infractions.
The state announced Monday it has signed a three-year, $158 million contract with Florida-based Trinity Services Group to take over the services. Michigan did not take bids in the process of switching contracts, according to reports.
Aramark's tenure as food service provider in Michigan prisons has been marked with failed performance and a range of bad behavior by employees, including meal shortages, maggots in kitchens, the smuggling of drugs and other contraband to prisoners, a contracted prison hit and sex acts with inmates.
Michigan officials called the split with Philadelphia-based Aramark a "mutual agreement" after nearly two years of service to Michigan's 33 state correctional facilities.
"Both the state and Aramark felt we couldn't bridge the gap and determined it was best we both go our separate ways," said Caleb Buhs, spokesman for the state Department of Technology, Management and Budget, according to the Detroit News.
In 2012, the Michigan Legislature voted to contract out food services for state prisons to a private company with the goal of saving $14 million a year of the state's $2 billion Department of Corrections budget. The privatization plan cut about 370 state jobs in the process.
Aramark was the lowest bidder for the contract. However, the deal ended up costing Michigan $52.5 million a year, which was more than expected, MLive Media Group reported.
Trinity ‒ a company that, unlike Aramark, is solely focused on prison services ‒ was the second-lowest bidder at the time, and will take full responsibility for state correctional food service in early September.
Michigan nixes a prison food company w maggot-laden food for a co. that starves prisoners & has rat-filled kitchens. https://t.co/AKko0fnXwp

— Valerie Vande Panne (@asktheduchess) July 14, 2015
Union leaders said that, like the Aramark contract, the Trinity deal will not help the state bring back quality jobs for its citizens.

"The failure of private companies to serve the public good is well-documented across the country," said Ed McNeil, special assistant to the president of the American Federation of State, County and Municipal Employees (AFSCME) Council 25, according to the Detroit News. "We need to terminate this contract, bring it back in house and provide the high-quality service you can only get with dedicated state employees."
Michigan AFSCME Council 25 said it will challenge the new contract based on the lack of open bidding.
"The reason why government has an open bid process is to insure the public is getting the lowest price and best value for the services provided," McNeil said in a news release. "Changing vendors two years after the open bid was first awarded without going back to the marketplace is bad business because it cheats the public out of the benefit of competitive pricing."
Michigan cancels Aramark contract to provide food service at state prisons http://t.co/HOkt0jK3SDpic.twitter.com/mZ0KhLeJWM

— Michigan AFL-CIO (@MIAFLCIO) July 13, 2015
Aramark shouldered some of the blame for its part in the shuttered deal.
"Regrettably, the partnership with the Michigan Department of Corrections has not worked out as both sides hoped, and that is disappointing," Aramark spokeswoman Karen Cutler said in a statement.
"We take full responsibility for all aspects of our performance while operating in a highly charged political environment that included repeated false claims. Ultimately, we were unable to resolve a number of shared issues and as a result we mutually agreed with MDOC to end the contract."
Brom Stibithz, the deputy director of state Department of Technology, Management and Budget, praised the new deal, according to the Detroit Free Press.
"[T]he contract with Trinity will ensure uninterrupted food delivery service in Michigan correctional facilities," he said. "Michigan taxpayers will continue to save millions of dollars per year, with assurance that the state will receive quality service in return."
Trinity currently operates food services for more than 300,000 inmates at prisons in 44 states. Its contract with Michigan must get final approval from the State Administrative Board.
"Prison food service is integral to the safe and secure operations of Michigan's prison system," Michigan Department of Corrections Director Heidi Washington said. "I look forward to working with our new partners at Trinity and am confident in their commitment to provide quality services."
You can share this story on social media: