Woman strip-searched by prison guards to prove she's menstruating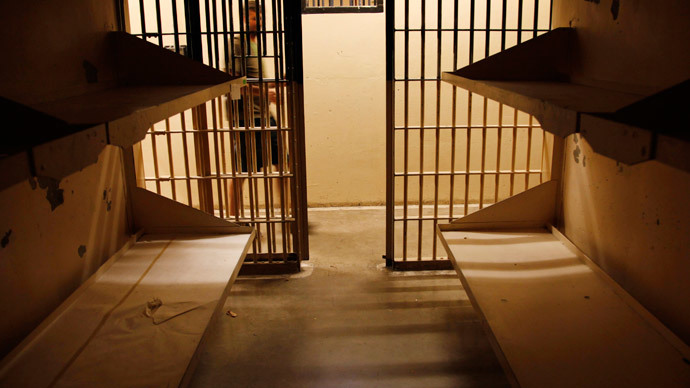 A woman visiting an inmate at a privately-run Tennessee prison said guards forced her to expose her genitals to prove she was menstruating, when she tried to take a sanitary napkin into the facility, according to a lawsuit.
The woman, identified only as Jane Doe, claims her constitutional rights were violated when – after clearing one security checkpoint – guards noticed the sanitary napkin sticking out her pocket. A guard asked about the "feminine sanitary napkin" in her pocket, and the woman said she needed it because she was menstruating.
Afterwards, the guard insisted she be searched to prove she was menstruating. The woman offered to leave the prison or leave the pad behind. She even offered to show the guards her used menstrual pad. However, they insisted she had to be searched, or she would have forfeit visiting the prison again.
The woman says she was instructed to go into a bathroom stall, drop her pants and underwear, and allow a female officer to inspect her genitalia.
Prison Guards Strip-Searches Visitor To Prove She Was Menstruating: Lawsuit: NASHVILLE, Tenn. (AP) — A woman… http://t.co/6P8JaVwapj

— Peter (@Studio4News) January 23, 2015
The lawsuit claims that the woman was not free to leave and that prison's visitor policy at the time stated: "Any visitor refusing a search of any type may be permanently restricted from visiting."
READ MORE: Prison guard sexually assaults dozens of inmates, strikes deal to avoid jail time

Corrections Corporation of America spokesman Jonathan Burns wrote in an email to the Huffington Post that maintaining safe facilities was a top priority.
"To that end, CCA facilities employ standardized policies and procedures to prevent the introduction of contraband, which are typically prescribed by our government partners," Burns wrote.
READ MORE: US prisons hold 10 times more mentally ill people than state hospitals – report

The Tennessee Department of Corrections said it had not yet reviewed the lawsuit and could not comment, although a policy from February 2014 said visitors may have to replace feminine hygiene products in the presence of a guard – but only if there is reasonable suspicion to prove that contraband is being brought in. The policy mentioned nothing about the visual inspection of genitalia.
The woman has asked the court to let her proceed anonymously because of the embarrassing details of the claims. The lawsuit seeks damages for the woman's humiliation and asks that the prison's policy on such searches be banned because it's unconstitutional.
READ MORE: Private prisons – the best investment in America?

"Plaintiff should not be forced to make the intolerable choice between abstaining from visiting an inmate in prison because she is on her period and visiting the prison with the risk of being subjected to another humiliating and degrading search of her exposed genitalia," the lawsuit says.
Martin F. Horn, a former commissioner of corrections in New York City and former secretary of corrections in Pennsylvania, told the Associated Press that a search like the one alleged in the lawsuit is "inconsistent with usual correctional practices."
You can share this story on social media: