Son of Boston police captain arrested over suspected terrorist plot
Published time: 14 Jul, 2015 01:56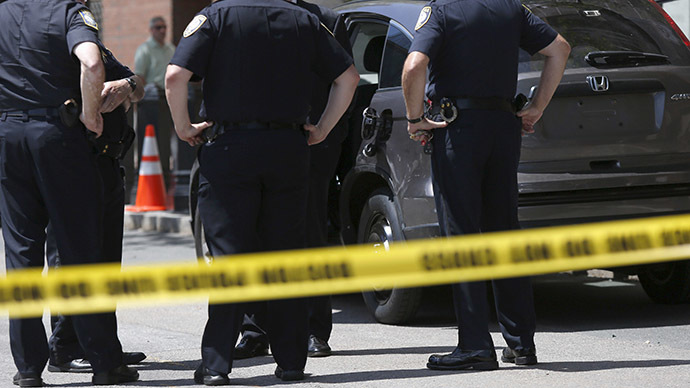 The estranged son of a Boston police captain was arrested on gun charges by the FBI after he was caught in a sting operation for trying to buy two pistols and two rifles from a confidential informant.
As described in court papers unsealed on Monday, Alexander Ciccolo, 23, allegedly told a cooperating witness in recorded conversations in June that he planned to commit acts inspired by Islamic State.
Specifically, Ciccolo, also known as Abu Ali al-Amriki, talked about killing civilians, police officers and members of the US military, but later said that he wanted to attack a state university outside Massachusetts because more people would be there. The attack would include the executions of students, broadcast live over the internet, he told the FBI informant.
On @WNTonight - @BrianRoss w latest on Boston cop's son arrested as possible terrorist - http://t.co/nsvvwVDsdkpic.twitter.com/iBsJaFo0QH

— Brian Ross Unit (@ABCInvestigates) July 13, 2015
Ciccolo, who recently converted to Islam, said that if a student was a Muslim, "he would be permitted to help, sit tight or leave."
Officials said that during a search of the suspect's apartment they found several partially constructed Molotov cocktails, two machetes and a long curbed knife. ABC News also reported that officials found "possible bomb-making equipment including a pressure cooker, a variety of chemicals, an alarm clock, along with attack papers and jihad paperwork."
Ciccolo's father, police Captain Robert Ciccolo, a 27-year veteran of the Boston police force, had alerted counter-terrorism authorities about a year ago that his son was beginning to act erratically, had a long history of mental illness, and had expressed a desire to go overseas and fight for Islamic State. He said he had received texts from him in which he said that America was "Satan" and Americans were disgusting, according to the Associated Press.
Police Captain Ciccolo was on duty during the Boston Marathon bombing and was a first responder; his son told the informant that the bombing gave him the idea of using a pressure cooker.
READ MORE: College student accused of plotting terror attack in NY
"While we are saddened and disappointed to learn of our son's intentions, we are grateful that authorities were able to prevent any loss or harm to others," the Ciccolo family said in a statement. They asked that the media respect their grief and privacy.
Arraigned last Monday on gun charges, Alexander Ciccolo is scheduled to appear in federal court in Springfield on Tuesday for a bail hearing.
His arrest is the latest in a widespread FBI counter-terrorism operation against alleged Islamic State-inspired attacks meant to take place in America. The FBI and Department of Homeland Security had warned of a heightened terror threat tied to July 4. The agency's director, James Comey, said last week that the FBI has arrested more than 10 people, actions which he believes stopped acts of violence in the month before the holiday.