US Army to cut 40,000 soldiers over next 2 years – leaked document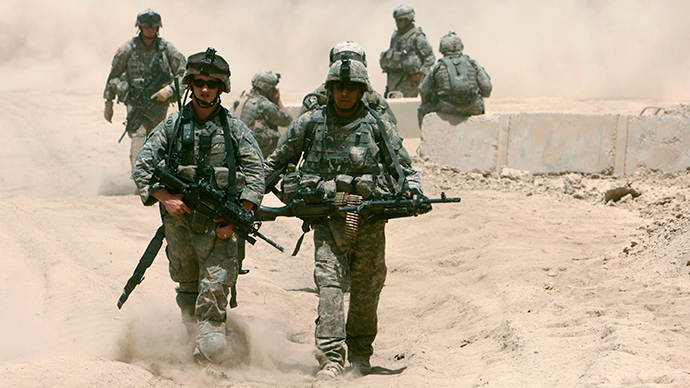 The US Army is expected to announce a plan that would cut 40,000 soldiers over the next two years to comply with Congressional spending cuts. Meeting those targets also includes layoffs for 17,000 civilian Army employees.
Under the plan, which was first acquired and reported on by USA Today, the cuts are likely to affect all of the Army's domestic and foreign posts, many of which were expanded during the Afghanistan and Iraq wars. That expansion saw soldier recruitment swell to 570,000 personnel to ensure deployments could be limited to once a year.
Since the expansion, the Army has already discharged 80,000 soldiers, but the newly planned cuts could affect the future of Army bases across the US, such as Fort Drum in New York or Fort Benning in Georgia.
READ MORE: 'This will not be quick': Obama on Islamic State strategy
Notably, President Barack Obama's defense budget request of $534.3 billion for the fiscal year 2016, beginning this October, represented a 7.7 percent increase on the previous year. The additional $38 billion is higher than the mandated level imposed by Congress in the 2011 Budget Control Act, or the steep spending cuts known as sequestration, which went into effect in 2013 after Congress and the president failed to reach an agreement on taxes and spending.
According to the document, the Army said an additional 30,000 solider could be cut in October if sequestration takes place, and that would bring the total troop level down to 420,000 by the end of the 2017 budget year. At that level, the Army said it would not be able to meet its current deployments and respond to demands for troops in other regions.
The disclosure about Army cuts comes a day after President Obama spoke at the Pentagon about his strategy fighting the Islamic State. He said he and military leaders had not discussed sending additional troops to Iraq to fight, but added, "this will not be quick."
"This is a long-term campaign. ISIL is opportunistic, and it is nimble. In many places in Syria and Iraq, including urban areas, it's dug in among innocent civilian populations. It will take time to root them out. And doing so must be the job of local forces on the ground with training and air support from our coalition," Obama said.
READ MORE: US trained only 60 'moderate' Syrian rebels to fight against ISIS
The US Army won't be the only military branch affected by cuts. If Congress doesn't give the military all the money it is asking for, the US Air Force said in February it will have to cut $10 billion from its budget, leading to a reduction of 10,000 personnel. That would shrink its force from 492,000 to 482,000 for active-duty and reserve forces.
"Further reductions would leave us with a team that has an incomplete roster, that is too small to meet a demanding schedule, and allows little time to practice and provides no down time," Maj. Gen. James Martin, Air Force deputy assistant secretary for budget, told Air Force Times in February. "Our airmen deserve better than that."
Drastic cuts like the Army's were not planned for the US Navy, according to its fiscal year 2016 (FY16) budget, where it indicated it will maintain more than 326,000 active duty personnel, while the US Marine Corp will maintain around 182,000 personnel. Both are experiencing across-the-board budget reductions of 20 percent from FY10 to FY20, which they anticipate will lead to delayed repairs to facilities and equipment, and cuts in weapons programs.