Fighter jet crashes in South Carolina after colliding with civilian plane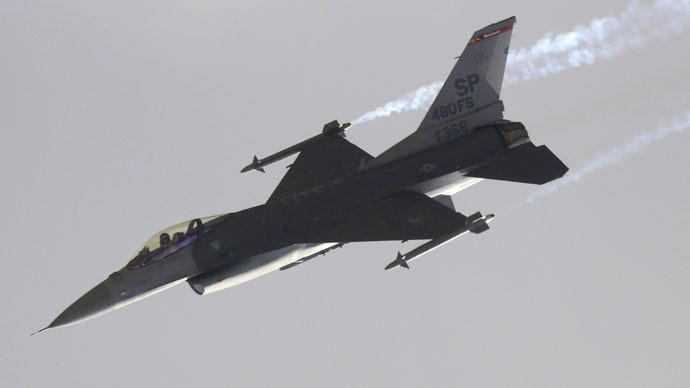 An F-16 Fighting Falcon has crashed near Charleston, South Carolina, after colliding with a civilian plane identified as a Cessna C-150.
Amy Ramsey Dye posted these two pictures of the crash on Facebook. #chsnewspic.twitter.com/6MnaxH3RzS

— Joe Wright (@Sctvman) July 7, 2015
A photo of the wreckage identifies the F-16 as part of the 55th Fighter Squadron (55 FS), part of the US Air Force's 20th Fighter Wing at Shaw Air Force Base, South Carolina.
JUST IN: Sources tell News 2, rescue crews have found the pilot of the F-16 and have transported him to the hospital. #chsnews

— WCBD (@WCBD) July 7, 2015
Rescue crews have located the Air Force pilot, who is on the way to a hospital.
#BREAKING NTSB: 2 aboard small plane killed when it collided with F-16 fighter jet over South Carolina. #WACHfox

— WACH FOX (@wachfox) July 7, 2015
The National Transportation Safety Board announced the two civilians aboard the Cessna were killed in the crash.
My dad saw explosion in the sky driving down old Highway 52 on the way to church - learning now it was a plane crash. @postandcourier

— Shawn Wood (@shawnwood) July 7, 2015
Witnesses reported an "explosion in the sky" above Highway 52 near Cooper River, in Berkeley County. The F-16's pilot ejected safely, according to WCSC's Bill Walsh, but debris from the plane is strewn on the ground near Lewisfield Plantation.
JUST IN: Pictures from scene of the plane crash at Lewis Field Plantation in Moncks Corner. #chsnews#BREAKINGpic.twitter.com/TXO0eNd3ih

— WCBD (@WCBD) July 7, 2015
Local firefighters and first responders are on the scene and looking for the wreckage of the civilian plane, with a helicopter searching the nearby Tailrace Canal. It is unknown how many people were on board the Cessna, or whether they survived.
2015-07-07 11:17 EDT | SC | MONCKS CORNER |**AIRCRAFT CRASH**| COOPER RIVER | IN THE AREA OF LEWISFIELD PLANTATION| REPORTED AS A "PLANE COLLISION" MULTIPLE RESOURCES ENROUTE | SC-01 | MapPosted by SConFire.com on Tuesday, July 7, 2015
SC Air National Guard says none of its planes are believed to be involved in the air accident.
In wake of recent reports of F-16 mishap in Berkeley Cnty, no @theSCANG F-16s were involved. #sctweets#scnews

— SC AirNationalGuard (@theSCANG) July 7, 2015
The crash site is about 30 miles north of Charleston.