​Support for US federal rulings falls by 1/3 in just 5 months
Published time: 4 Jul, 2015 20:11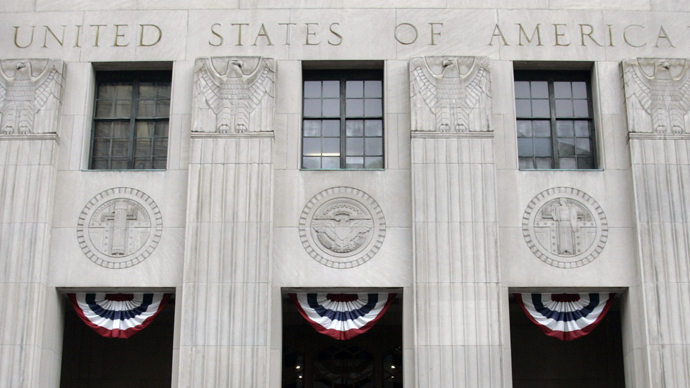 Americans are increasingly in favor of states being able to ignore federal court rulings, a new poll has revealed. This comes on the heels of last week's Supreme Court rulings on gay marriage and Obamacare.
The survey by Rasmussen Reports was conducted among 1,000 eligible (and likely) voters over a two-day period, June 30-July 1.
It reveals that 33 percent of eligible voters in the United States believe states have the right to ignore federal rulings, a figure that is up by more than one-third from just five months ago. Just over half of Americans – 52 percent – disagreed with this, but this view is down from the previous 58 percent. The remaining 15 percent are undecided.
READ MORE: License to snoop: Court revives NSA spy program through December
What the institute found noteworthy is that the Republicans and conservatives, who historically have been in favor of shielding themselves with the US Constitution any time a threat to the established way of life were presented, seem to have changed their minds with the Obama administration in power. The conservatives appear more than ever distrustful toward the federal government.
In fact, according to the survey, exactly half of the GOP voter base believes that federal rulings hold little significance and want the right to override them. That is in comparison to some 22 percent of Democrats and 30 percent unaffiliated with any party.
A poll conducted earlier this year, also by Rasmussen Reports, revealed that 26 percent of voters believed President Barack Obama had the right to ignore federal court rulings if "they are standing in the way of actions he feels are important for the country."
In total, 43 percent of Democrat supporters shared this view, while 81 percent of Republicans disagreed.
The Rasmussen poll found that "the more a voter approves of Obama's performance, the more likely he or she is to say that states should not have the right to ignore the federal courts," while "higher income voters are more likely to oppose letting states ignore federal court rulings than those who earn less," the authors say in the press release.
READ MORE: US Supreme Court rules in favor of same-sex marriage nationwide
But the overarching conclusion is that support for ignoring federal rulings is up across the board.
A majority, 61 percent, believe that federally mandated programs are also open to question if the government isn't willing to pay for them.
It was found that only one-quarter of Americans believes in the claim made in the Declaration of Independence – the country's key constitutional document – that governments basically act only on consent of the governed. Some 60 percent of Americans now see the government as a threat.
The country has been undergoing a tumultuous several days lately, after the Supreme Court upheld Obama's Obamacare plan in a 6-3 decision, followed only a day later by a 5-4 ruling in favor of gay marriage across all states – something that has angered Republicans no end.