​At long last: Pocahontas' tribe wins federal recognition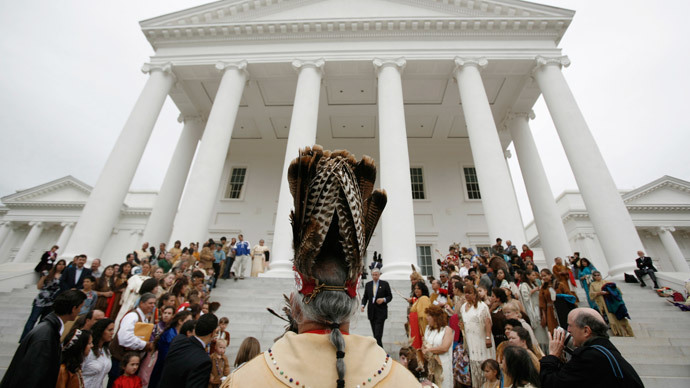 The US Bureau of Indian Affairs is recognizing the tribe of Pocahontas more than 400 years after she encountered the first permanent English settlers in what is now the United States.
Virginia's Pamunkey Indian Tribe's decades-long bid for recognition came to an end on Thursday, when they finally received federal designation. The designation is shared by hundreds of other recognized tribes around the country and allows Native American tribes to receive federal benefits, including education, medical care and housing. The process cost them more than $2 million.
READ MORE: Facebook suspending Native Americans over 'fake' names
The decision, which goes into effect for the 200-member tribe in 90 days, allows for other special legal privileges such as the ability to sell tax-free goods on tribal land, which is located 25 miles east of the Richmond, the state's capital. Additionally, the recognition opens the door for the Pamunkey to begin a separate process to open a casino.
"We're looking at all economic opportunities, but we have nothing on the table right now," Bob Gray, Pamunkey's assistant chief, told the Associated Press.
The tribe's quest for recognition was actively opposed by MGM Resorts, which is currently building a casino of its own in nearby Maryland. As part of its strategy to deny the tribe recognition, MGM pointed out that the Pamunkey had banned interracial marriage during their history, even though the practice was abandoned long ago.
"This is a group that Pocahontas was a member of, so it truly is a historical act," Assistant Secretary for Indian Affairs Kevin Washburn told the Washington Post in an interview. "This is one of the most solemn duties we have in my job, to determine who the United States has a government-to-government relationship with. It's really gratifying to go through this rigorous process and be at this stage."
The Pamunkey Tribe is historically renowned, counting the famed Pocahontas as one of its ancestors. When John Smith and other English settlers arrived to build the first successful American settlement of Jamestown, the Indians warmly received the colonists, granting them food and aid.
The Pamunkey Tribe is the second to gain recognition during Barack Obama's presidency. Six other Virginia tribes are currently seeking designation through acts of Congress.