Baltimore to install recording cameras in all police vans after Freddie Gray death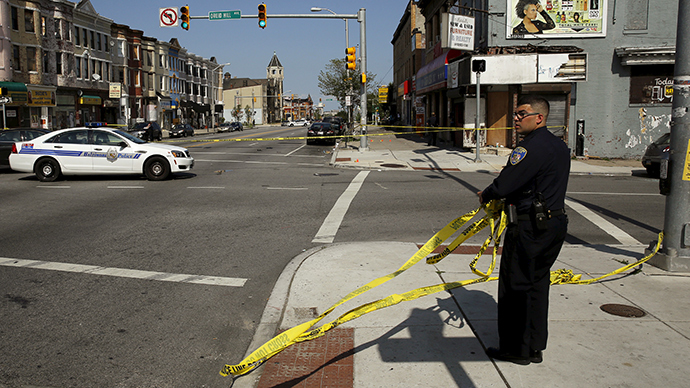 In the wake of protests over Freddie Gray, whose death from injuries sustained in police custody in April provoked unrest in several US cities, Baltimore has pledged to install cameras in police vans for a "more complete record of what occurs there."
Mayor Stephanie Rawlings-Blake told reporters on Wednesday that the city of Baltimore has been "working through a process that will place cameras with recording capabilities in the backs of all our police vans."
In fact, the van in which Freddie Gray was transported on April 12 did have a camera that the driver could use to monitor the passengers, but it was reportedly not working at the time. Gray, 25, suffered a severed spine while being transported in the police vehicle and passed away on April 19, his tragic death striking unrest in Baltimore, Washington DC, Boston and New York, just to name a few cities. The next day after his death police officials said that Gray had actually requested an inhaler while in police custody, but admitted that calls for medical assistance were not made for over 40 minutes.
By the time Gray arrived at the hospital, he slipped into a coma and died. On top of that, according to Baltimore City State's Attorney Marilyn Mosby, Gray was not secured in the van with a seatbelt, which is against police regulations. He was handcuffed instead and placed in leg irons. This led to his injuries most likely caused by a sudden slowing of the police van, the investigation has found. During one of the stops police officers checked on Gray only to find that he was unresponsive, but failed to take any actions. Gray's death has been declared a homicide by the state attorney.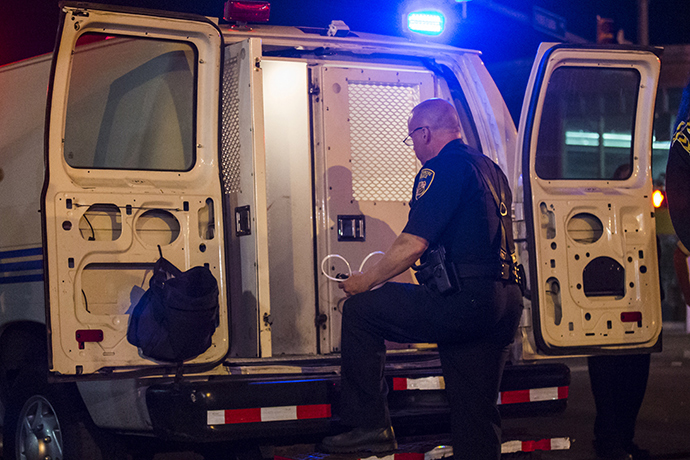 Many questions were raised about why Gray had been arrested in the first place. After fleeing police on April 12, he was charged with carrying a switchblade knife, which is illegal in Baltimore City. In his police report, Officer Garrett Miller said that Gray was stopped after fleeing "unprovoked upon noticing police presence." But according to William Murphy, attorney for the Gray family, the police lacked probable cause to arrest him.
"The only reason that he could have possibly been arrested is running while black," Murphy told RT. "What we know is that he was healthy before he came in contact with the police, before he was unlawfully arrested, he was a healthy 25-year-old man. And after the police unlawfully arrested him, there was a severe injury to his spinal cord and he died from those injuries," he added.
Six Maryland police officers charged over the in-custody death of Gray pleaded not guilty late last month. They were suspended with pay, pending the investigation's outcome, and will be tried separately in October.
Rawlings-Blake said that following Gray's death, which triggered nationwide rallies, the city has been reviewing riot gear used by police during the unrest. She said Baltimore needs the right equipment in case trouble breaks out following trial verdicts in the Gray case.
READ MORE: Bad day in Baltimore: Reporters beaten, detained by police, RT contributor robbed (VIDEO)
About 160 police officers were injured during rioting on the day of Gray's funeral, according to Reuters, as hundreds of protesters called for justice in his death, chanting "Hands up, don't shoot!"
At one point, protesters and police became involved in a scuffle, with reports on the ground saying that some people threw objects at officers. In another instance, demonstrators surrounded a police vehicle and climbed on top of it, according to WNEW News.
A nationwide debate over the use of police force has been going nonstop since last summer, when an 18-year-old black teenager, Michael Brown, was killed in Ferguson, Missouri, on August 9.
According to a new Justice Department report summary, obtained by the St. Louis Post-Dispatch, police trying to tackle the Ferguson protests had violated free speech rights and antagonized people with military-style tactics. The full report is expected to feature findings regarding the response of four police agencies in the first 16 days after Ferguson Police Officer Darren Wilson fatally shot Michael Brown. The draft report suggests that the protests triggered by Brown's death escalated after authorities failed to quickly provide details about his death.
"Had law enforcement released information on the officer-involved shooting in a timely manner and continued the information flow as it became available, community distrust and media skepticism would most likely have been lessened," the document states, reported the St. Louis Post-Dispatch.