Hillary Clinton's emails reveal link with Qatari royal family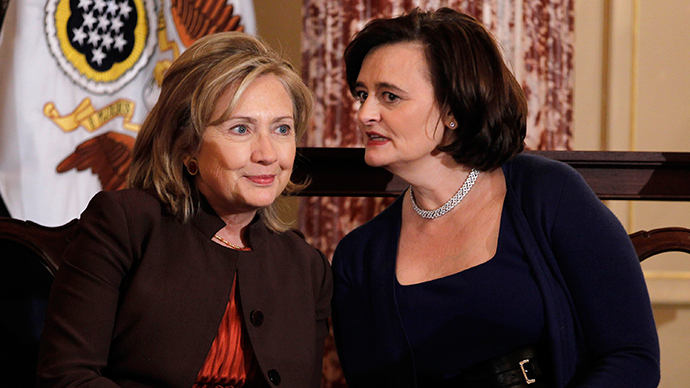 Emails of former US Secretary of State Hillary Clinton published by the State Department expose that the Qatari Royal family made efforts to befriend the American politician through former British PM Tony Blair's spouse, Cherie Blair.
Sheikha Mozah bint Nasser al-Missned, a wife of the former emir of Qatar and mother of the ruling emir, Sheikh Tamin bin Hamad Al-Thani, established contact with Clinton via Cherie Blair.
The Blair and Clinton families have been political and personal friends since the 1990s.
"Sheika Moser (Sheikha Mozah) has approached me privately saying they are keen to get their relationship with the USA onto a more positive footing and she was hoping for a 'women to women' one to one private meeting with you," Cherie Blair wrote to Clinton in May 2009. "I am sure the conversation would not be confined to these issues but would be about the U.S./Qatar relationship generally," Blair wrote, mentioning joint philanthropic interests among issues Clinton and Mozah could talk about.
Blair did her best to persuade Hillary Clinton to get acquainted with "someone who has real influence in Qatar," the newly-released documents show.
"I could make time to meet in DC during the weeks of June 8th and 15th. Would that work?" Clinton gave in on May 26, promising to rearrange her schedule to "fit her time."
Yet Sheikha Mozah was unable to meet with Clinton on suggested dates in June 2009 "due to prior commitments" and proposed to meet "immediately after Ramadan/Eid week of September 27, 2009."
Altogether, on Tuesday the State Department released over 1,900 of Clinton's emails (3,000 pages). Within this bulk of information, there are 19 emails that have to do with Clinton/ Mozah getting acquainted with each other.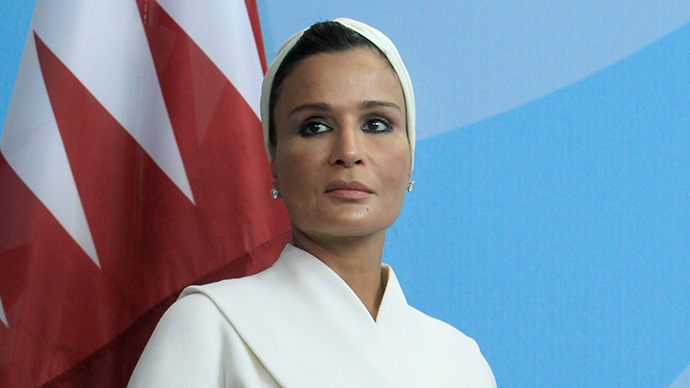 The royal Al-Thanis family of Qatar is known for its fabulous wealth gathered on the back of the petroleum and liquefied natural gas trade.Over the last decades, Qatar rulers spent billions on increasing its influence in Western capitals. Particularly heavily Al-Thanis invested in London, the Guardian claims.
The scale of the Qatar royal family's investment in the British capital remains largely unknown. Al-Thanis own Harrods, the Olympic village and Shard completely, along with certain property in Hyde Park. A quarter of Sainsbury's, large share of Barclays and 8 percent of the London Stock Exchange all belong to them, as well as the US embassy building in Grosvenor Square.
Earlier this year it emerged that the Clinton Foundation allegedly received multiple foreign donations during Hillary Clinton's tenure as secretary of state.
A newly-released book accused the Clinton Foundation, run by presidential candidate Hillary Clinton, her husband Bill Clinton, and their daughter Chelsea, of accepting quid pro quo donations from foreign sources while Hillary was secretary of state.
READ MORE: 'Clinton Cash' book alleges foreign donations to family foundation linked to political favors
It was revealed that governments that had received frequent criticism from the State Department for repressive policies - countries like Algeria, Saudi Arabia, Kuwait, the United Arab Emirates, Oman and Qatar - had donated to the Clinton Foundation and gained State Department clearance to buy caches of American-made weapons.
In late May, the FIFA corruption scandal also cast its shadow over the Clintons, as it emerged that the Clinton Foundation received at least $50,000 and as much as $100,000 from the football governing body.
"I don't think there's anything sinister in trying to get wealthy people in countries that are seriously involved in development to spend their money wisely in a way that helps poor people and lifts them up," Hillary Clinton told NBC News in May.
The Guardian reports that Blair family has done some favors for Qatar's rulers, too.
Although Tony Blair stepped down from his post as PM in 2007, his influence remains in place. In 2012 he brokered a $50-billion commodities deal between Glencore and Xstrata, which brought him $1 million.
Later the same year the former Labor leader assisted the Qataris in getting a share in a £1-billion-valued group owning such prestigious hotel as Berkeley, Claridge's and Connaught, the Guardian claims.
The Blairs' charitable Faith Foundation, aimed at combating religious extremism, does not hesitate to accept donations from anyone, be it Rupert Murdoch or Ukrainian oligarchs.
In this regard, the Faith Foundation mirrors the Clinton Foundation, set up by the former US President Bill Clinton after leaving his post in 2001.
From 2009 up to 2013, the year the Ukrainian crisis erupted, the Clinton Foundation received at least $8.6 million from the Victor Pinchuk Foundation, which is headquartered in the Ukrainian capital of Kiev, a new report claims.
READ MORE: Ukraine oligarch 'top cash contributor' to Clinton Foundation prior to Kiev crisis
The Clinton Foundation's donor list includes some 200,000 names, among them foreign financial institutions and Wall Street-based financial organizations, international energy conglomerates and governments, the government of Qatar included, which allegedly has given between $1 million and $5 million in donations to the Clintons.
You can share this story on social media: