'Investigation lacks objectivity': Lawyers slam report into Zambrano-Montes killing, shot 17-times by police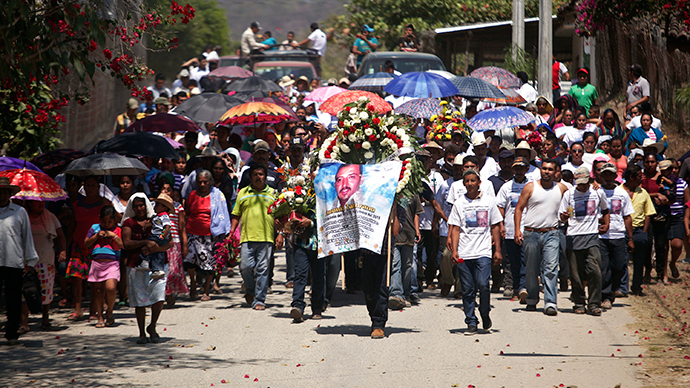 Lawyers representing Antonio Zambrano-Montes, who was shot by police in February, in Washington state, say a police investigation into his death was "disappointing," while they have doubts whether it was carried out "impartially."
There has still not been a verdict about the case, which happened almost six months ago, on February 10, in Pasco, Washington. Three police officers shot the undocumented Mexican migrant Zambrano-Montes dead as he fled after throwing rocks at nearby cars. No charges against the law enforcement officers have yet been made.
Jose Baez, a lawyer, who is representing the Zambrano-Montes family, has been critical of the investigation so far, due to what he perceives as a "lack of objectivity."
"I see cases across the country where instead of a hardnosed investigation, which would normally be conducted by law enforcement, it appears these types of cases, and particularly this one, are investigated not as an investigation, but more of a process of protection," he said in a statement on Tuesday.
Attorneys and the Zambrano-Montes family walking into the take a look at the SIU report @KAPPKVEW#TriCitiespic.twitter.com/ADVFJVFbe5

— Katherine Hessel (@KathKAPPKVEW) June 30, 2015
Videos from witnesses, who watched the incident unfold, appear to show that the 35-year-old Mexican was raising his hands when police decided to open fire. Zambrano-Montes, who had been living in the US without documents for about a decade, was shot 17 times by the officers on duty. Some were critical of the police, saying they overreacted.
"I could not believe they were shooting guns. There were cars and people everywhere," Pasco resident Benjamin Patrick said at the time.
"I am really upset about what I saw," he added. "Yes, he was resisting. Yes, he was wrong. But it looked like there might be something wrong with him. And he wasn't hurting anyone. He had a rock, not a gun. It seems it could have been handled differently."
Antonio Zambrano Montes' parents and their attorneys meet w/ media following meeting w/ the prosecutor today. pic.twitter.com/OOSiEQKlvQ

— Alex Rozier (@AlexRozierK5) June 30, 2015
While the lawyers say they have confidence in the Franklin County Prosecutor Shawn Sant, who is overseeing the case, the same cannot be said of the investigation process itself.
"These officers were not interviewed in timely fashion and it was weeks, weeks later when they were finally interviewed and to say that those interviews were conducted in our opinion, in a fair, impartial, rigorous basis, I have that same doubt about it, that this investigation carried out by the SIU was done in an impartial and unbiased manner," said another lawyer involved in the case, Charles Herman.
READ MORE: 'Ferguson everywhere': Hundreds protest cops killing Latino worker in Washington
Eyewitness video captured the incident and appeared to show Zambrano-Montes raising his hands when police opened fire as he turned towards them. The death was investigated by a special investigation unit (SIU) comprised of police officers from neighboring jurisdictions, who in May handed their report to Sant.
Both the lawyers were flanked by Zambrano-Montes's parents, who also attended a meeting with Sant.
All three officers have been placed on administrative leave until officials conclude their investigation. However, last week, one of the police officers involved in the incident, Ryan Flanagan, a nine-year veteran and traffic safety officer, resigned from his job. Officer Adam Wright, an eight-year veteran who is a firearms instructor and field training officer; and Officer Adrian Alaniz, a two-year officer assigned to patrol, were also involved in the shooting.
The incident was condemned by the Mexican government, who urged US police to revise their use-of-force policies.
Protests followed the shooting. On February 11, a day after the shooting, around 60 demonstrators gathered outside the Pasco City Hall, chanting "We want justice!" in English and Spanish. One sign read, "Stop police brutality! It was rock!" More than 100 people took to the streets near to the location where the shooting happened, chanting "Use your training, not your gun," the Tri-City Herald reported.