Berserk Colorado cop fired for beating of detainee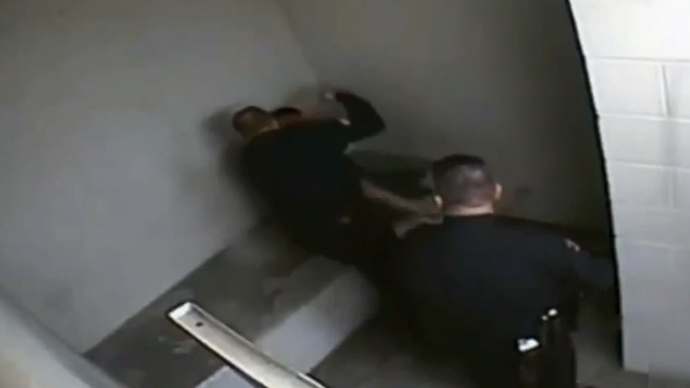 Police body-camera video and surveillance footage became proof against a police officer who severely beat a suspect in holding cell in December. To warning calls that the beating was being video recorded, a cop answered only "F**k that!"
Two Federal Heights Police officers were attempting to calm a rowdy suspect at the suburban Denver police station in December. But the standard detention turned into a battering spree when one of the officers appeared to lose his temper after the detainee tried to slap him.
READ MORE: Florida police officer suspended after slapping homeless man
Officer Mark Magness, 51, pleaded guilty to assault, received year of probation and has been fired from Federal Heights Police force for mercilessly beating suspect Kent Lasnik, 48, detained for allegedly attacking a liquor store clerk. The beating that occurred in several stages ended in Lasnik bleeding from his mouth.
The incident took place in December but ABC7 obtained it recorded from several viewpoints only now.
The video exposes Magness throwing an obviously-drunk Lasnik around and beating him on a concrete cot and ceiling inside the holding cell, later physically abusing and bullying the suspect while fixing him to the restraint chair.
The video begins with Magness pulling the suspect out of the patrol car and escorting him to the cell, slamming him against a refrigerator on his way. Once placed inside a cell and with handcuffs removed, Lasnik said "F**k you!" and attempted to slap police officer in the face, which sent Magness into uncontrollable fury.
READ MORE: Chicago police allegedly run domestic 'black site' for interrogation
Magness punched suspect with a closed fist at least 12 times, being unable to stop despite warning calls from his partner. After that, Magness brings in a restraint chair to immobilize the prisoner.
The officer repeatedly screams "stop resisting!" while fixing the recalcitrant detainee. Already in the chair, Lesnik is heard of saying "I'm sorry, sir, I won't do nothing else."
Magness is also seen pushing Lesnik's head back and even applying pressure on his temples and pressure points beneath his ears. When the other officer says that they would need medical assistance for the prisoner, Magness said only, "I don't care, strap him to the chair."
It's not Magness's first accusation of using excessive force towards suspects. In 2009, the officer pleaded guilty to a misdemeanor after he broke the arm of a man involved in setting off fireworks.
READ MORE: Baltimore cop sued for millions after police brutality video surfaces
For that incident Magness was ordered to pay a $517 fine.
The Rikers Island prison complex where Magness used to work remains under intense scrutiny as new reports of misconduct, neglect and open violence continue to emerge.