​No federal bailout for Puerto Rico – White House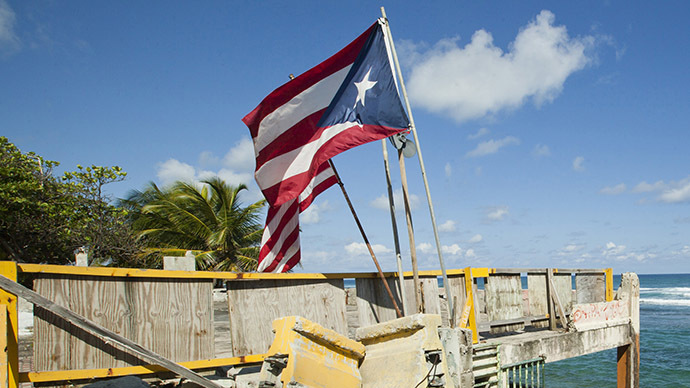 The United States will not provide a federal bailout for Puerto Rico, which says it cannot pay its $72 billion public debt, the White House announced. Officials pushed Congress to allow the commonwealth to declare bankruptcy, however.
Speaking to reporters, White House spokesperson Josh Earnest said the US will send experts from the Treasury Department and other agencies to consult with Puerto Rico and help guide it through its financial crisis. However, he specifically dismissed talk of a federal bailout.
"There's no one in the administration or in DC that's contemplating a federal bailout of Puerto Rico," Earnest said. "But we do remain committed to working with Puerto Rico and their leaders as they address the serious challenges."
READ MORE: Puerto Rico governor says island can't pay its $72mn debt
Earnest added that the Obama administration will push lawmakers to allow Puerto Rico to declare bankruptcy and restructure its financial situation through that process with the help of federal experts, much like the city of Detroit did. Currently, Puerto Rico cannot declare bankruptcy because it is not a municipality.
As a result, the Obama administration has "urged Congress to take a close look at this particular issue," Earnest said.
On Monday, Puerto Rico Governor Alejandro Garcia Padilla said the commonwealth cannot pay its debt due to a decade-long recession and declared that he wanted to defer some payments and implement budget cuts.
"There is no other option. I would love to have an easier option. This is not politics, this is math," Garcia told the New York Times. "My administration is doing everything not to default … But we have to make the economy grow. If not, we will be in a death spiral."
He added that restructuring would be the best way forward.
"Puerto Rico needs a complete restructuring and development plan, comprehensive and inclusive, that takes care of the immense problem we face today, not on a short but on a long-term and definitive basis," Garcia Padilla said, according to Reuters. "The alternative would be ... halting of payments with all the negative consequences that this implies."
The tragedy of Puerto Rico, America's very own Greece http://t.co/W4AIkjF8BE

— Felix Salmon (@felixsalmon) June 30, 2015
Critics, such as Republican Jenniffer Gonzalez, said Puerto Rico cannot defer debt payments and that any decision to defer would require a vote on constitutional reform.
Meanwhile, retired US bankruptcy judge Steven Rhodes, who supervised the Detroit bankruptcy and has been hired by Puerto Rico, said there is no time to lose in helping the island.
Puerto Rico "urgently needs our help," he said to Reuters. "It can no longer pay its debts; it will soon run out of cash to operate; its residents and businesses will suffer."
READ MORE: Puerto Rico moves to legalize marijuana for medical uses
Unable to cope with a major recession, the island has been plagued by too much government spending, poor investment, and a poor energy system, CNN Money reported. Unemployment is also a major problem. Between 2010 and 2013, some 48,000 people left Puerto Rico to find jobs in the US mainland every year. Between 1990 and 2000, that number had only been 11,000 annually.
"The markets are clear that Puerto Rico is heading to a direction of a restructuring or default," said Jose Villamil, a former UN consultant.
"The last four administrations have kicked the can down the road," said Villamil. "At this point, there is no more can to kick. So we're going to take some very strict measures and some very profound measures. It's going to hurt, but there's no way out."
You can share this story on social media: