​Puerto Rico governor says island can't pay its $72mn debt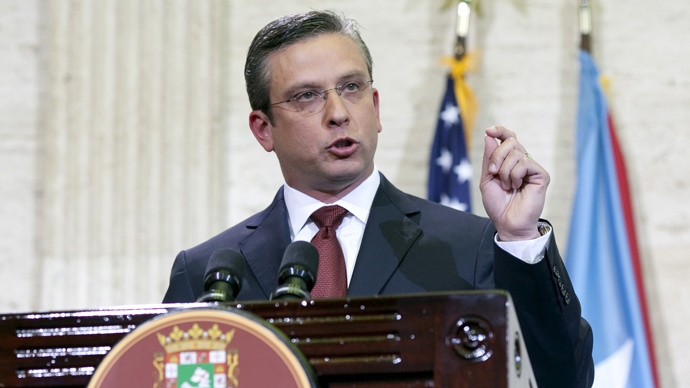 With the world already jolted by the Greek financial crisis, another one is brewing in Puerto Rico. The island says it can't repay its $72-billion debt. Governor Alejandro Garcia Padilla wants to defer payments and introduce drastic budget cuts.
"There is no other option. I would love to have an easier option. This is not politics, this is math," Garcia told the New York Times.
The island nation, which has a population of 3.6 million, has been in recession for over a decade. Governor Padilla wants to negotiate with creditors, while also looking to defer some debt payments, according to his spokesman, Jesus Manuel Ortiz.
Puerto Rico's bonds had been popular with US mutual funds because they were tax free, but the island's debt was gobbled up by hedge funds, which were attracted by falling credit ratings.
"The markets are clear that Puerto Rico is heading to a direction of a restructuring or default," said Jose Villamil, a former UN consultant, adding that a voluntary restructuring by bondholders might be the best option, AP reported.
"The last four administrations have kicked the can down the road," said Villamil. "At this point, there is no more can to kick. So we're going to take some very strict measures and some very profound measures. It's going to hurt, but there's no way out."
These strict measures may include calls for budget cuts of $674 million and setting aside $1.5 billion to pay off debts. The budget needs to be approved by the island's government on Tuesday.
However, not everyone is happy with Governor Padilla.
"I think it's irresponsible," said Republican Jenniffer Gonzalez. "He met privately with the New York Times last week, but he hasn't met with the leaders of this island."
READ MORE: Puerto Rico moves to legalize marijuana for medical uses
Gonzalez added that Puerto Rico's constitution mentions the debt has to be paid before any other financial obligations can be met. If the governor decides not to pay the debt, a referendum will be required as well as a vote on a constitutional reform, she told AP.
However, this is not an option Governor Padilla is looking at.
"My administration is doing everything not to default," he said, as cited by the New York Times. "But we have to make the economy grow. If not, we will be in a death spiral."
In April 2014, Puerto Rico contemplated more than a hundred different proposals intended to jumpstart its sagging economy, including legalizing prostitution and marijuana use.
Nearly 370 different ideas to dig the government out of $70-billion debt were submitted, and lawmakers picked out 156 of them for further consideration. According to AP, the proposals range from eliminating various government agencies to cutting down the number of public holidays.
You can share this story on social media: