Jihadis 1 – Rebels 0: Walmart takes ISIS banner, rejects Confederate flag for cake order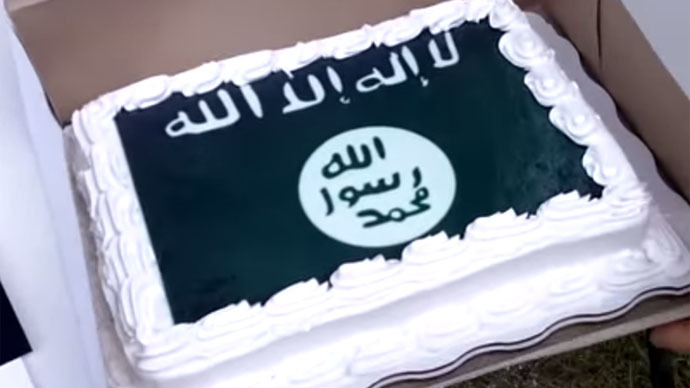 Walmart apologized for one of its local stores baking a cake with an Islamic State [IS, formerly ISIS/ISIL] flag design for a Louisiana man, after rejecting his request for a Confederate flag cake.
In a video published on YouTube, Chuck Netzhammer explained that the Walmart in Slidell, Louisiana had refused to make him a cake with the words "Heritage Not Hate" written on a Confederate flag on Thursday. He returned the next day with a new order: a black IS battlefield flag. This time the cake was baked.
Netzhammer recorded the video, which showed all the receipts and asked Walmart for an explanation.
"I am highly offended, distraught, and in tears over the fact you pull American history off your shelves, but allow the offensive battle flag of terrorists, sex slavers, be-headers of Christians, burners of gays to be made in your store," he said in the comment on the video.
"An associate in a local store did not know what the design meant and made a mistake. The cake should not have been made and we apologize," Walmart spokesman said to ABC news.
READ MORE: Apple pulls Civil War games from store, calling them 'offensive and mean-spirited'
Walmart, along with other major retailers, has been pulling merchandise bearing the confederate flag following a shooting at the Emanuel African Methodist Episcopal Church, where 9 people were shot dead. Dylann Storm Roof, a white supremacist who later confessed to the killings, had a Confederate flag on his license plate and had posted pictures of himself with Confederate symbols on social media.
In the days following the tragedy, the flag's ubiquitous presence in southern states provoked calls for the banner to be taken out of public sight. Protests have been held both in support of and against removal of the flag.