Second escaped NY prisoner shot by police
Published time: 28 Jun, 2015 19:57
Edited time: 28 Jun, 2015 23:50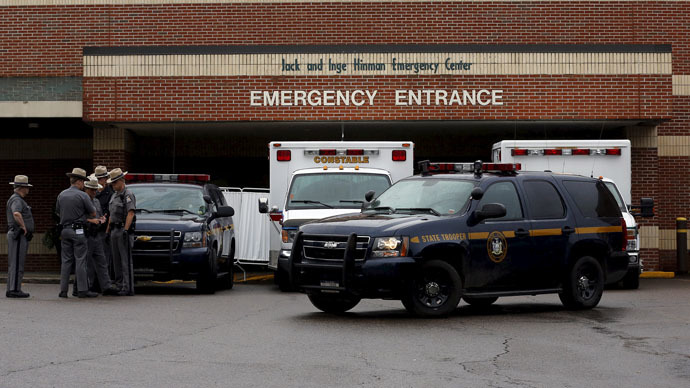 The second escaped New York state prisoner, David Sweat, has been shot by police and taken in custody near the Canadian border, officials confirmed.
Sweat was shot in the town of Constable 30 miles away from the prison from which he escaped, just shy of the Canadian border, Franklin County Sheriff Kevin Mulverhill told reporters. The fugitive was then hospitalized in the town of Malone.
Heavy presence in Constable NY #nyprisonbreak#PrisonBreakNYpic.twitter.com/4lZS5YJl3D

— Alex Rose (@AlexRoseNews) June 28, 2015
The sheriff did not provide details as to whether Sweat was armed at the time of the shootout, but the suspect was shot twice and was spitting blood at the time of his arrest by federal agents, according to New York Senator Charles Schumer. No officers were injured in the incident.
Ambulance coming out of the area! Police still present. #nyprisonbreak#PrisonBreakNYpic.twitter.com/KAa7Px4l5J

— Alex Rose (@AlexRoseNews) June 28, 2015
The manhunt for Richard Matt, 48, and David Sweat, 34, began June 6 when Matt and Sweat ‒ both serving life sentences for murder ‒ broke out of the Clinton Correctional Facility in Dannemora, New York. They used power tools to drill through steel walls in the maximum-security prison close to the Canadian border.
READ MORE: Escaped prisoner shot and killed in upstate New York, 2nd still loose
Matt was killed earlier this week during a confrontation with US Customs and Border Patrol, after a tactical team responded to calls that he may be in the area.
Following Matt's death, police launched a "furious ground search" for Sweat.
NY Police: 2nd #PrisonBreakNY subject in custody. Thanks to community during search & support from law enforcement. pic.twitter.com/ilezdDaE2H

— FBI (@FBI) June 28, 2015