Escaped prisoner shot and killed in upstate New York, 2nd still loose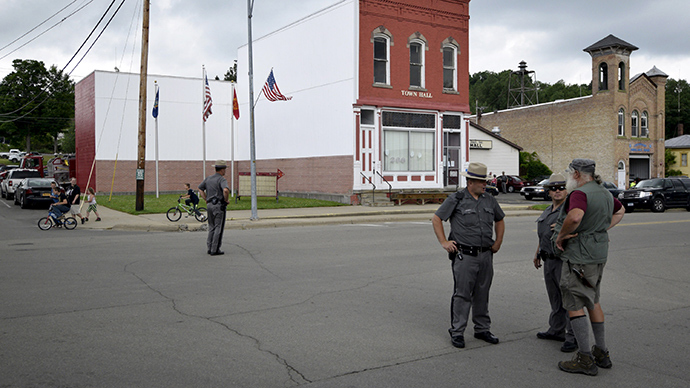 One of two prisoners who escaped from an upstate New York prison in early June has been shot and killed, New York Gov. Andrew Cuomo confirmed. Richard Matt was shot by law enforcement near the town of Malone. Police are still searching for David Sweat.
Matt was killed during a confrontation with US Customs and Border Patrol, after a tactical team responded to calls that he may be in the area, Cuomo said. Joseph D'Amico, New York state police superintendent, said Matt was "challenged" by Border Patrol before he was shot and that a 20-gauge shotgun wasrecovered from Matt's body.
Earlier, local WPTZ reported that Matt allegedly pointed a firearm at an agent before he was shot.
No police were injured, and D'Amico said Matt did not discharge his weapon.
Cuomo said that Sweat may have been with Matt at the time, but that there is nothing to confirm his whereabouts at this time. D'Amico added that there was no sighting of Sweat in the area, and that the last positive sighting of Sweat was the day he escaped from prison.
Previously, ABC News reported that police believe they know the "general vicinity" of Sweat's whereabouts and are "trying to close him off." Fox News reported that a "foot pursuit" is underway. NY1, meanwhile, reported that Sweat was surrounded.
#BREAKING: Sources tell 7 Eyewitness News Richard Matt has been shot and killed by police outside Malone, NY.

— 7 Eyewitness News (@WKBW) June 26, 2015
Nearly 1,100 law enforcement officials began concentrating near the town of Malone in northern New York on Friday, after receiving a tip that the two escapees were heading to Canada, WKBW reported. Flood lights were also brought in to help in the search.
D'Amico said there is "no factual evidence" suggesting they were making a run to Canada. All police know is that they were heading north.
Matt, 48, and Sweat, 34, were believed to be making their way north, traveling at night. They had stolen supplied from seasonal cabins in the area, Guess added.
#PrisonBreakNY THEY GOT ONE! "ONE DOWN!" pic.twitter.com/WuP3E6EIYD

— Thom Kelly (@Thomchi) June 26, 2015
Police used DNA left at two sites ‒ one in a cabin in the Malone area and one at an outdoor location, State Police spokesman Beau Duffy told reporters after the press conference, Buffalo News reported.
However, the DNA may only belong to one of the two men, making it impossible to tell if the escapees were traveling together or had separated.
"Preliminary results are conclusive enough that they were there, though maybe not together," Duffy said. "I don't know if they have evidence of both."
READ MORE: Manhunt in NY state after murderers power their way to freedom in 'elaborate escape'
Now that Matt is dead, police are conducting a "furious ground search" for Sweat in the area, according to the Buffalo News.
The manhunt began June 6 when Matt and Sweat ‒ both serving life sentences for murder ‒ broke out of the Clinton Correctional Facility in Dannemora, New York. They used power tools to drill through the steel walls of the maximum-security prison close to the Canadian border.
The search has ranged across New York and into Pennsylvania. Canadian law enforcement was aware of the situation and on the lookout as well. By Friday, Canadian authorities were "standing up a picket line using all of their resources to ensure [the escapees] do not cross the border," Guess said.