NY state police struggle to find escaped murderers despite 'credible tip'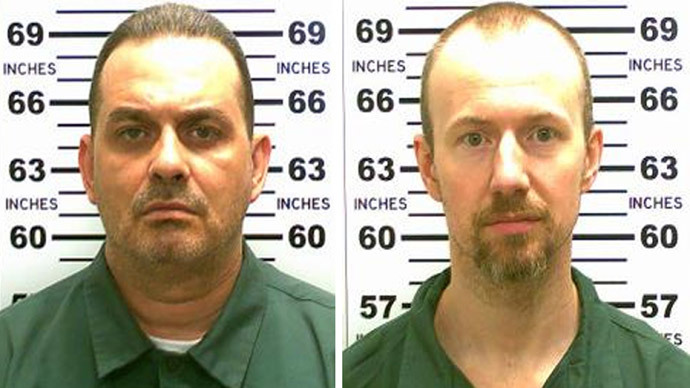 Hundreds of officers are struggling to find two highly dangerous fugitives who escaped from a maximum security prison in New York state last week. Following numerous leads, the search has focused on a small town some 40 miles from the facility they fled.
Since the escape of David Sweat, 34, and Richard Matt, 48, from Clinton Correctional Facility in Dannemora, about 20 miles from the Canadian border, the authorities have been following numerous leads. On Tuesday the search focused on the small town of Willsboro.
Law enforcement officers swarmed a local farm after they received a "credible tip" from a dairy farmer George Sayward who allegedly saw Sweat and Matt in the vicinity.
More than 400 corrections and other law enforcement officers flocked to the area, according to State Police. They were assisted by helicopters, which also joined in the hunt. The search ended by the evening with no result.
Now: Active investigation on sighting - last night - of suspicious individuals in Willsboro, NY pic.twitter.com/SXBLgKOgqU

— Jesse McKinley (@jessemckinley) June 9, 2015
Sweat and Matt escaped from the 3,000-inmate maximum security state prison on Saturday by cutting through a steel wall, demolishing bricks and crawling through a steam pipe before making it through a manhole outside the prison grounds. The guards discovered beds stuffed with clothes in their cells – and a note reading: "Have a nice day."
The Shawshank Redemption style prison break has raised eyebrows, with the authorities looking for possible accomplices. Investigators think a woman who worked at the correctional facility picked up the convicts as they escaped. Law enforcement officers also questioning the prison workers and outside contractors to shed light on how the fugitives obtained power tools for their miraculous escape.
On Station Rd. in the hamlet of Boquet, near Willsboro, Essex Co. Armed agents have gathered here. 2 choppers in sky. pic.twitter.com/ZjV1AE5hdP

— Geoff Redick (@Redick_TWCNews) June 9, 2015
A $100,000 reward has been posted for information leading to their capture.
"This is a crisis situation for the state," New York Gov. Andrew Cuomo said over the weekend. "These are dangerous men capable of committing grave crimes again."
On Monday investigators said, the two escapees could be anywhere.
David Sweat was convicted of murdering a policeman in New York in July 2002. He was sentenced to life in prison without parole. Sweat stands at 5 feet 11 inches tall, weighing 165 pounds with brown hair and a tattoo on his left bicep.
Richard Matt was convicted of kidnapping, dismembering and killing his 76-year-old former boss in 1997. Matt is 210 pounds, 6 feet tall, has black hair and a tattoo which reads "Mexico Forever." He was serving 25 years to life after starting his sentence in 2008.