Tweeting Rainbow: Social media explodes in gay pride after SCOTUS ruling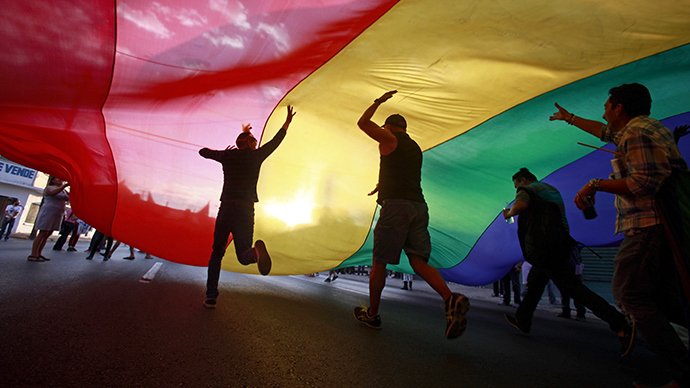 Social media erupted into a storm of rainbows following a landmark ruling by the US Supreme Court making same-sex marriage a legal right in all 50 states.
READ MORE: US Supreme Court rules in favor of same-sex marriage nationwide
Twitter itself commented on the massive trend of tweets on the social media platform and showed its approval for the ruling with the #LoveWins hashtag, which now has a rainbow heart emoji automatically added to the end of it.
#LoveWins: 6.2 million Tweets (& counting) regarding the #SCOTUS marriage equality decision. http://t.co/iO5FSg3mVTpic.twitter.com/hfa0LhxSiz

— Twitter Data (@TwitterData) June 26, 2015
The Supreme Court's decision, announced Friday morning, has united diverse groups ranging from Jewish feminist organizations to the creators of comedic humiliation-focused website FailBlog.
Only 4 #fails in this photo. #LoveWinspic.twitter.com/fQ37w0owPG

— FailBlog (@FailBlog) June 26, 2015
Congratulations, America. One HUGE step toward a more equal, more just world!!! #FreedomToMarry#Unite4Marriage#CourtsMatter

— NCJW (@NCJW) June 26, 2015
The American Civil Liberties Union, one of the largest civil rights advocacy organizations in the United States, has fought for gay rights and other progressive causes throughout its history.
ACLU in NYC reacts to #SCOTUSMarriage decision. #lovewinspic.twitter.com/thnqyPLdxh

— ACLU National (@ACLU) June 26, 2015
Anyone who thinks corporate America is a consistent friend to the conservatives should take a look at the Twitter feeds of the largest consumer-facing companies.
In addition to adding rainbow-colored images above search results, Google announced that "YouTube and Google are proud to celebrate marriage equality. #ProudtoLove," on its landing page. The Google Maps Twitter account also joined in the celebration.
Yes. #LoveWinspic.twitter.com/sNcYs5iv7X

— Google Maps (@googlemaps) June 26, 2015
Apple CEO Tim Cook is a clear supporter, himself being gay. In terms of market capitalization, the company that he runs is the largest in the world.
Today marks a victory for equality, perseverance and love.

— Tim Cook (@tim_cook) June 26, 2015
Ben and Jerry's has long supported progressive causes, so their reaction should come as no surprise to anyone.
LOVE wins!!! #LoveIsLove#MarriageEqualitypic.twitter.com/Myt9cwFB7d

— Ben & Jerry's (@benandjerrys) June 26, 2015
Several products seem to be made for rainbow-themed celebrations.
J-E-L-L-O is for everyone. So is L-O-V-E. #DecisionDay#Pridepic.twitter.com/xw4pHTcodF

— JELL-O (@JELLO) June 26, 2015
Best day to be the Rainbow EVER. #lovewinspic.twitter.com/lvRuZw7OzV

— Skittles (@Skittles) June 26, 2015
Others not so much, but that hasn't stopped the makers of your favorite cereals from making it clear that they want to bring in the same-sex customers, too.
Kellogg's congratulates LGBT Americans on Marriage Equality! pic.twitter.com/k36u8HgywI

— Kellogg's (@KelloggsUS) June 26, 2015
And now, no one can tell you otherwise. #LoveWinspic.twitter.com/769Rz8DO7C

— Cheerios (@cheerios) June 26, 2015
You can share this story on social media: