51st State: Bernie Sanders supports bill for DC statehood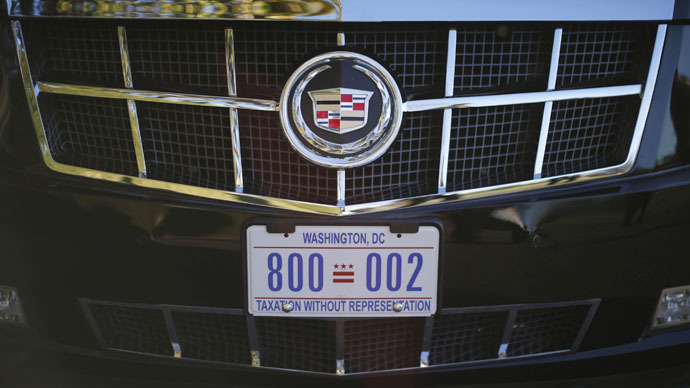 Democratic presidential candidate Bernie Sanders joined 17 other senators in cosponsoring a bill to make Washington, DC the 51st state. Under the proposed legislation, residents of "New Columbia" would obtain full representation in Congress.
The bill, entitled the New Columbia Admission Act, would separate the federal parts of DC from the residential areas that currently comprise the majority of the city. The areas surrounding the White House, the Capitol, the Supreme Court and the National Mall would remain as the seat of the federal government, and would still be called the District of Columbia. The rest of the area would become the state of New Columbia.
Sanders, an independent senator from Vermont, told The Hill newspaper in a statement that it is "morally wrong" to block District residents from federal representation.
"Washington D.C. is currently home to more people than the state of Vermont, yet its residents lack voting representation in Congress," Sanders said. "I think it is morally wrong for American citizens who pay federal taxes, fight in our wars and live in our country to be denied the basic right to full congressional representation."
Join the fight for #DCStatehood today! #DCFlagDaypic.twitter.com/hRdv5rv0Tw

— Anita Bonds (@AnitaBondsDC) June 11, 2015
Sen. Tom Carper (D-Delaware) introduced the bill, along with 18 original cosponsors.
"The District of Columbia is not just a collection of government offices, monuments and museums. It is home to more than 600,000 people who build lives, families, and careers here. These Americans serve in our military, die defending our country, serve on our juries, and pay federal taxes," Carper said in a statement.
"Yet, despite their civic contributions, they are not afforded a vote in either chamber of Congress. This situation is simply not fair, and it isn't consistent with the values we celebrate as a country on July 4th every year. Most importantly, it isn't consistent with the Golden Rule: to treat others the way we want to be treated."
Neighbors United for DC Statehood had hoped for 20 to 30 cosponsors in the Senate, the group said in a blog post. Despite falling slightly short of its goal, the grassroots organization praised the introduction of the bill as "a step forward. A small one but a step forward nonetheless."
Tomorrow will be a step forward. A small one but a step forward nonetheless. #DCStatehood

— UnitedforDCStatehood (@51stDC) June 24, 2015
Del. Eleanor Holmes Norton (D-District of Columbia) introduced HR 317, the companion legislation, in the House of Representatives in January with a total of 120 cosponsors, all of whom are Democrats. She thanked Carper for his work on gaining statehood for DC.
"Today, as ranking member, [Carper] once again demonstrated his commitment to equal rights for D.C. residents by reintroducing his statehood bill. We are enormously grateful. I am particularly delighted that he took the time and care also to attract a historic number of original cosponsors, including Senate leaders," Holmes Norton said in a statement.
"With today's bill and its cosponsors, Senator Carper has sent the same message we tried to send when I gathered a record 93 original cosponsors," she continued. "With Democrats in the Senate and House undaunted in the fight to make the District the 51st state, residents have a strong foundation to build our movement here and nationwide."
At 7pm, I'll be discussing the #DCStatehood movement at a @USNatArchives special event. Watch the live stream here: https://t.co/7Ot02phYrd

— Eleanor H. Norton (@EleanorNorton) June 25, 2015
As a delegate, Holmes Norton is only able to vote in committees, not on legislation that reaches the House floor or as a part of the Committee of the Whole. The same is true for delegates from the US territories of the Virgin Islands, Guam, American Samoa and the Commonwealth of the Northern Mariana Islands. Likewise, Puerto Rico ‒ which is represented by a resident commissioner instead of a delegate ‒ does not have full voting rights in the House.
After serious thought this Native Washingtonian's pro #DCStatehood#DCFlagDay#Ward1@BrianneKNadeau@LaurenCentrellapic.twitter.com/Khf79IlgeI

— Steve (@SMC_DC) June 13, 2015
Resident Commissioner Pedro Pierluisi (D-Puerto Rico) introduced a bill that would admit the island to the union in February. HR 727, known as the Puerto Rico Statehood Admission Process Act, with a total of 108 cosponsors, 14 of whom are Republican.
Along with Carper and Sanders, the New Columbia bill's cosponsors include Minority Leader Harry Reid (D-Nevada), Cory Booker (D-New Jersey), Patrick Leahy (D-Vermont), Charles Schumer (D-New York), and Elizabeth Warren (D-Massachusetts).
Similar legislation was introduced in the Senate in 1993 and was supported by several of the same lawmakers. In the House, Sanders cosponsored the companion legislation, which Schumer, Sens. Sherrod Brown (D-Ohio), Ben Cardin (D-Maryland) and Richard Durbin (D-Illinois) voted in favor of, along with now-Sens. Maria Cantwell (D-Washington), Bob Menendez (D-New Jersey), and Ron Wyden (D-Oregon). Almost two thirds of House Democrats and one Republican voted for that iteration of the bill.
Holmes Norton introduced the DC House Voting Rights Act, which would have given DC residents a voting representative in the House. That legislation passed the House in 2007 and the Senate in 2009, but was derailed by an amendment that would have eliminated the city's stringent gun safety laws, according to the delegate.
It was also introduced in the 113th Congress with 21 cosponsors, but lawmakers adjourned without taking any action on the bill.