Netflix could trounce viewing audiences of major US TV networks by 2016 - analysis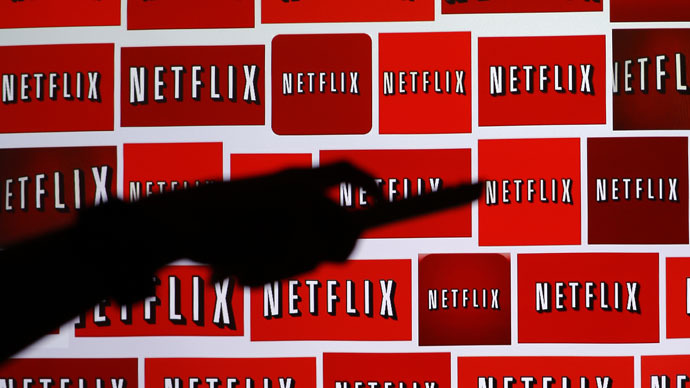 The streaming movie and television service Netflix could surpass the viewership of major American TV networks in 2016 if its 40 percent growth continues, according to Wall Street analysts.
The analysts found that customers of Netflix spent a comparable amount of time watching streaming content to those viewers who watched TV networks – around 2.6 hours a day. The comparison was drawn from Netflix's first quarterly 2015 viewing results, which were matched against Nielsen audience ratings for the major TV networks of ABC, CBS, NBC and Fox.
Netflix's About to Be Bigger Than ABC, CBS, NBC, and Fox http://t.co/Ide8tGxSKX

— McBernard (@TheBernside) June 25, 2015
According to the numbers, Netflix users streamed about 10 billion hours of video in Q1 2015, equating to nearly two hours per subscriber per day. Analysts at FBR Capital Markets calculated what Netflix's Nielsen rating would be by dividing the two-hour figure by 24 hours, then multiplying that by the number of US Netflix subscribers as a percentage of households.
Netflix continues to add more content to its streaming service, according FBR, and adds millions more paying subscribers each quarter.
READ MORE: Airbnb opens its doors in Cuba to licensed US travelers
"Netflix is growing its ratings at a 40 percent-plus compound annual growth rate; the broadcasters are, on average, declining," FBR wrote in its study. "At this pace, in a year, Netflix will have a larger 24-hour audience than all broadcast networks."
Where the analysis falters, however, is in comparing the number of Netflix subscribers strictly with Nielsen ratings, which only measure TV watchers and not those people who access TV networks' own online on-demand services, according to Variety. TV networks and cable providers still lead the field with live content and there is no indication that Netflix is considering adding live content. TV networks also provide a variety of content such as live sports and news shows, where Netflix offers no competition.
There were 115.6 million estimated TV households in the US in 2013, while Netflix has a 62 million worldwide subscriber base which pays approximately $8 a month for the service.
READ MORE: Americans prefer fictional TV presidents over Obama - survey
Netflix plans to spend $3 billion for acquiring rights to domestic and international content next year, according to the analysis, a budget that would surpass spending by HBO, Showtime Networks or Starz, as well as Fox's and Disney's non-news/non-sports cable channels. The budget is not greater than the budgets of Viacom and Turner Networks (excluding CNN), who spend more in the US.
Time magazinereportedthat Netflix is due to launch in India in 2016, a country with 1.2 billion people and 240 million internet users. Another company goal is hitting 200 countries by the end of next year.
"We now believe we can complete our global expansion over the next two years, while staying profitable, which is earlier than we expected," said Netflix CEO Reed Hastings in aletterto investors earlier this year.