'May suck in a boat': Giant vortex in southern US lake wows onlookers (VIDEO)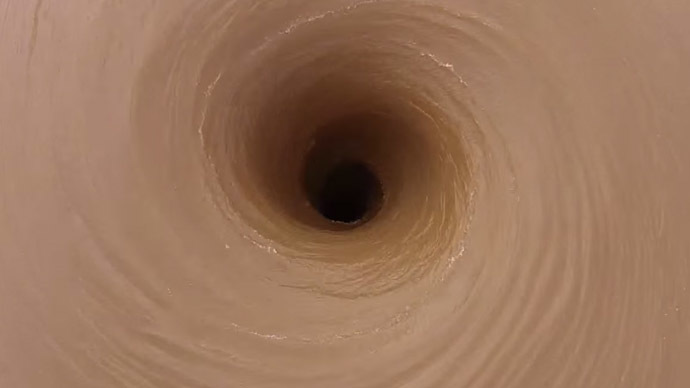 A mysterious giant vortex has appeared in Lake Texoma, between Texas and Oklahoma. The phenomenon shot on video appears to be draining the lake right in front of puzzled onlookers. The footage has caused a stir online.
The vortex appeared recently and immediately caused a sensation on Twitter, after the US Army Corps of Engineers in Tulsa District posted the video. According to their description, the hole is "8 feet in diameter and capable of sucking in a full-sized boat."
But fans of unexplained phenomena had better hold the champagne, as the engineers claim the hole is a perfectly-explainable one. What's happening is exactly what one thinks when first seeing the monster.
"Just like in your house when you fill a bathtub full of water and [open] the drain, it will develop a vortex or whirlpool," assistant lake manager at Lake Texoma BJ Parkey told Business Insider.
The Texoma reservoir is one of the largest in the US and water often builds up there as a consequence of the Denison Dam on the Red River. When levels get too high, the local Army simply opens the floodgates at the lake's bottom and the water is drained into the river. Texoma itself has been seeing something of a record lately, with levels reaching 646 feet (197 meters) above sea level.
What arguably makes the abysmal-looking hole even creepier is the added flooding, following massive amounts of rainfall in the preceding weeks.
Could Lake #Texoma make history with all of this #flooding? It may! Get the latest: http://t.co/McSwrUi235pic.twitter.com/oTufZBBuYZ

— Firsthand Weather (@1stHandWeather) June 18, 2015
The mini-cyclone is a sight to behold, but could it swallow a boat? Parkey says 'no'. Not with this diameter. Although the initial description says it was eight feet, Parkey claims it's closer to three.
You can share this story on social media: