5.8 earthquake strikes Alaska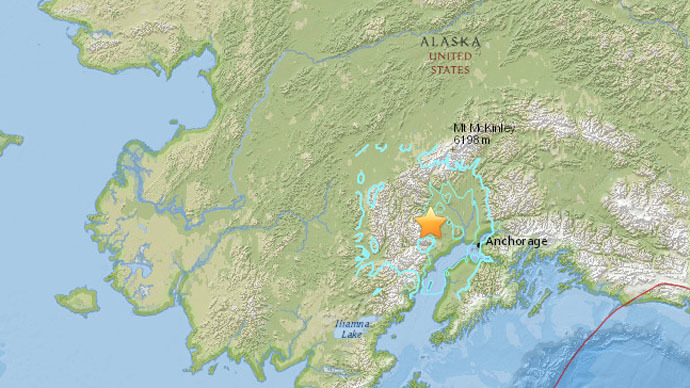 A moderate earthquake has struck Alaska some 125 km north-west of Anchorage. Initially reported as magnitude 5.6, it was upgraded to 6.2 before USGS reviewed it as 5.8.
The quake struck after 2:30 pm and was initially reported as having a magnitude of 5.6, but it was eventually updated to magnitude 5.8.
via nws_ntwc: Tsunami Info Stmt: M5.6 075Mi SW Talkeetna, Alaska 1432AKDT Jun 24: Tsunami NOT expected #NTWC

— NWS Anchorage (@NWSAnchorage) June 24, 2015
There were no immediate reports of damage or injuries, but shaking was felt across the southcentral area of Alaska.
The earthquake felt like "a heavy dump truck" riding the street, Anchora resident Linda Lee Covert wrote as a Facebook comment to a local news outlet. She said that the ground shook for good "15-20 seconds." Others noted that it started "small and just got bigger."
Meanwhile in Willow, Becky Walter told Alaska Dispatch News that she thought "a moose was head butting my camper."
6.2 #AlaskaQuake RT @907dbackfan: Made me run right out of my house with the dog! https://t.co/zk0H6SFELK

— Anonymous (@C0d3fr0sty) June 24, 2015
The epicenter of the quake was located some 100 km west of Willow and 125 km west-northwest from Anchorage at a depth of some 115 km.
M6.2 -> M5.8 Willow, Alaska 2015-06-24 22:32:20 UTC http://t.co/QXr9glAcem#USGS#earthquake#sismo#jishinpic.twitter.com/pGzqU8PGW0

— Satoh_Ichi (@dig119) June 24, 2015
Dozens of earthquakes occur daily in Alaska, as the northern state lies in the region where the Pacific plate subducts beneath the North America plate. The 3,000 km Aleutian arc stretches from the Gulf of Alaska in the east to the Kamchatka Peninsula in the west, making the zone prone to destructive earthquakes and tsunamis. Since the 20th century, this region was shaken by twelve large earthquakes of a 7.5 magnitude or higher.