Rare 'testicle-eating' fish with human-like teeth found in New Jersey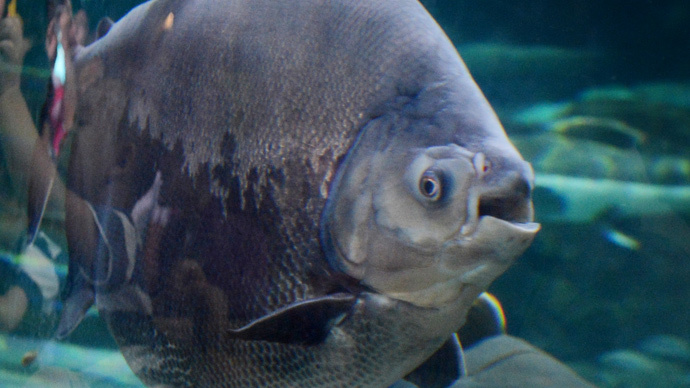 A fish native to the Amazon called the pacu was caught in a reservoir in Southern New Jersey over the weekend. The fish has a nasty reputation for occasionally biting people with its human-like teeth.
The catch was made by Ron Rossi from the town of Delran, which has an artificial reservoir called Swedes Lake.
"We scoop[ed] this thing up and brought it up. We didn't know what kind of fish it was," Rossi told a local ABC affiliate.

Though the fish is from South America, they are sometimes kept as pets, according to the Department of Environmental Protection (DEP), and have also been found in far-flung locations such as Washington State, France and Denmark.
READ MORE: Deep-water hunter first among fish to have warm blood
"Many times, these fish are deposited into lakes by pet owners. These fish do not survive in colder water, so we encourage people not to release it into the wild but to humanely destroy the fish," said spokesperson for the DEP in a statement.

While the pacu, which can weigh up to 44 pounds, does have a powerful bite, the fish probably isn't aggressive toward humans in general, with only two cases being claimed in New Guinea.

The fish became notoriously – and erroneously – known for eating testicles . While it is true that pacu is related to piranhas, unlike their meat-loving cousins, pacus are omnivores. As with the similar-looking teeth of humans, theirs are made for grinding.

"I think it's just a rumor," Lars Skou Olsen, curator of Copenhagen's Blue Planet Aquarium, told National Geographic when asked if the fish has a taste for male genitalia.

Despite fears of attacks and castration, some are concerned about pacus in the wild because of the possibility that they might harm the ecosystem by outcompeting native species and introducing exotic diseases.